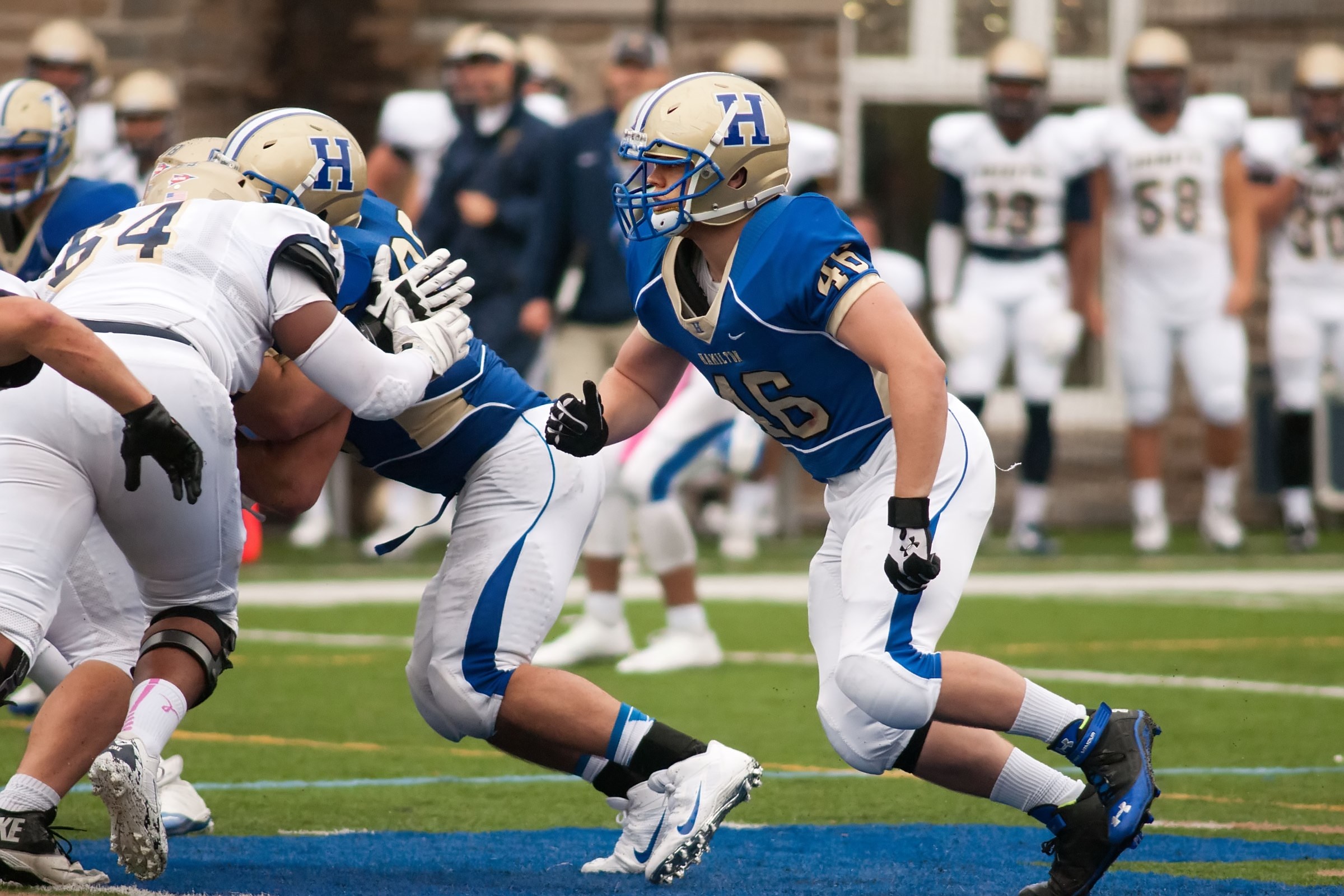 The Hamilton College football team couldn't recover from host Colby College's first-half offensive explosion, falling 47-14 in a NESCAC game at Harold Alfond Stadium on Saturday afternoon. The Continentals, who held Colby's offense scoreless in the second half, are now 0-5 on the season while the Mules are 1-4.

Box score

Hamilton scored a pair of second-half touchdowns and the Continental defense limited the Mules to five first downs and 121 yards of total offense in the final 30 minutes. Jeff Hopsicker '15 and Rico Gonzalez '16 ran for touchdowns for the Continentals.

The Mules exploded for six first-half touchdowns, with Luke Duncklee '15 rushing for two scores and catching another and Ryder Arsenault '17 catching two TD passes. Colby quarterback Gabe Harrington '17 threw four touchdown passes and completed 13 of 20 attempts for 225 yards.

Linebacker John Phelan '16 set up Hamilton's first score, picking off a pass on the second play of Colby's second drive of the third quarter. The interception – his first of the year and the third of his career – set up the Continentals at the Mule 32-yard line. Eight plays later Hopsicker took a direct snap and scored his first career touchdown on a 1-yard run. Amman Weaver '18 caught a two-point conversion from Chase Rosenberg '17 following the TD.

Colby scored a defensive touchdown following a goal-line stand by Hamilton. The Continentals held the Mules out of the end zone after a first-and-goal from the 8-yard line. After Colby used two rushes to advance to the 1, defensive tackle Michael de Percin '15 and end Cory Glover '16 dropped Mule running back Billy Murphy '16 for a 1-yard loss and Glover and lineman Nick Sobczyk '17 stopped Murphy at the 1 on fourth down.

Colby forced a fumble on Hamilton's next play with Henry Wallrapp '17 recovering in the end zone for a touchdown.

The Continentals took the ensuing kickoff and drove 65 yards in 11 plays with Gonzalez scoring on an 11-yard run. Quarterback Colin Pastorella '16 threw for 32 yards on the drive.

Linebacker Matt Glebus '17 led Hamilton with a career-high 11 tackles. Safety Alex Mitko '16 was in on eight and linebacker Matt Story '18 added seven. De Percin had a hand in three tackles for loss; he ranks third in the NESCAC in that category.

Justin Lamere '17 led Colby with seven tackles, including two for loss. Jason Buco '15 intercepted a pair of passes, including one that set up the second Mule TD.

Rosenberg threw for 77 yards and Pastorella completed four of five second-half passes. Patrick Donahoe '16 and John Fisher '15 caught three passes apiece.

Arsenault led all receivers with five catches. Alex Kramer '17, who also caught a first-half TD pass, gained 59 yards.

The Continentals return home to host Williams College in a 1 p.m. game on Saturday, Oct. 25. Colby plays at Bates College.