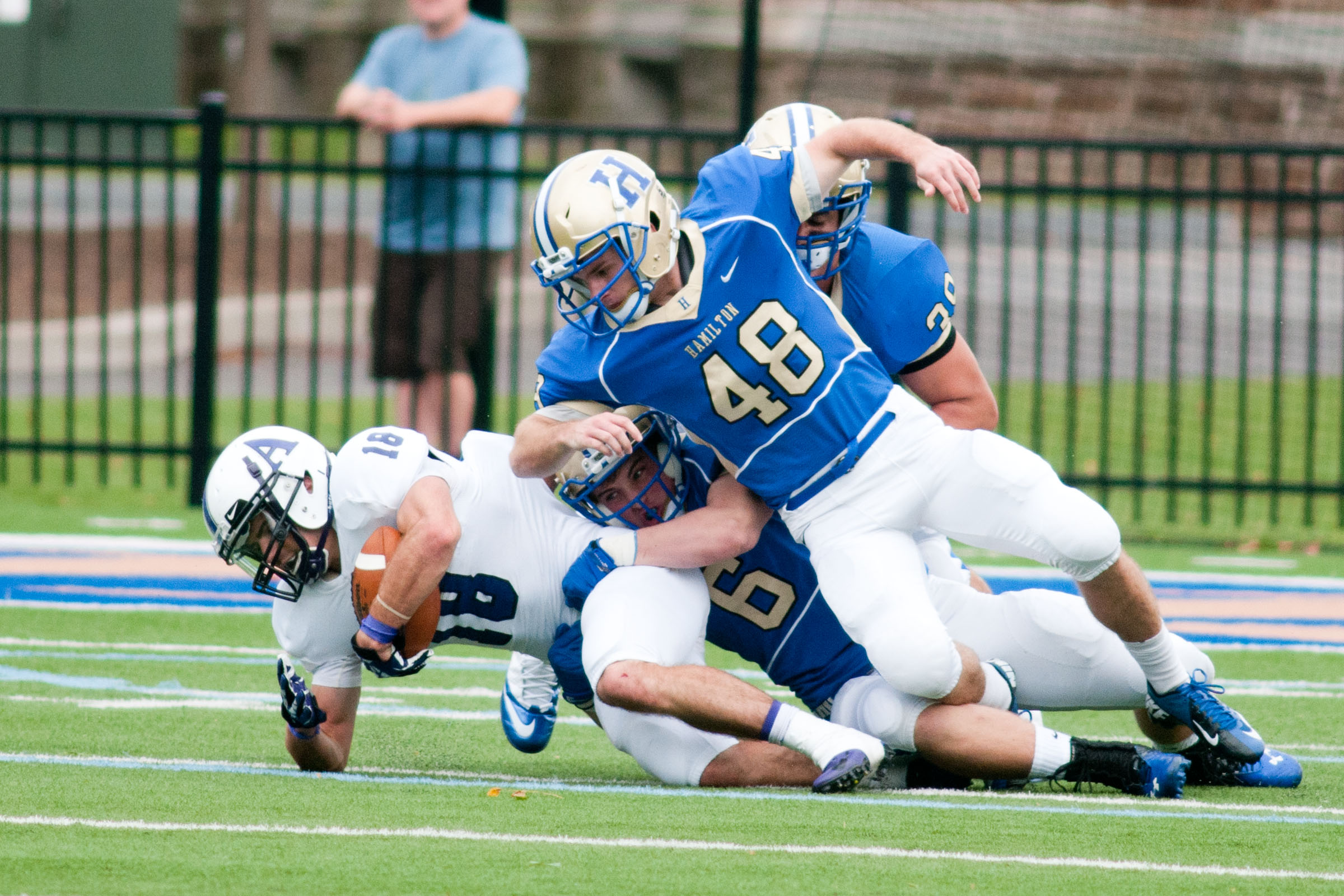 Bates College jumped out to a 14-0 lead after one quarter and never trailed in a 31-10 NESCAC win against the Hamilton College Continentals at Bates' Garcelon Field on Nov. 8.

Box Score

The Bobcats (4-4 NESCAC) ended the season with three straight wins. Bates has also won three in a row against Hamilton and leads the all-time series, 19-18.

Hamilton (0-8) turned the ball over five times and was 3 of 17 on third-down conversions. The Continentals gained 192 yards on 70 plays and finished with 10 first downs. The Bobcats rushed for 281 yards compared to 26 for Hamilton.

Colin Pastorella '16 was 12 of 39 for a career-high 166 yards with one touchdown pass and four interceptions in his first start at quarterback for the Continentals this year. Amman Weaver '18 gained 24 yards on three carries.

Patrick Donahoe '16, Nick Caso '16 and Charles Ensley '17 caught three passes each for Hamilton. Donahoe recorded a game-high 83 yards receiving. Jordan Jenkins '17 made his first collegiate reception a 13-yard TD catch.

Cade Larabee '16 was credited with a career-high 11 tackles for the Continentals. Larabee forced a fumble and returned a fumble recovery 4 yards. John Phelan '16 chipped in 11 stops and Matt Glebus '17 added 10.

Alex Mitko '16 contributed eight tackles, including a career-best five for 16 yards in losses, and forced a fumble. James Taylor '17 picked off the first pass of his Hamilton career and recovered a fumble. The Continentals helped force four Bates turnovers.

Four Bobcats ran for 55 yards or more. Frank Williams '18 led the way with 70 on 10 carries. Shaun Carroll '16 added 59 yards and two touchdowns, Ivan Reese '17 posted 57 yards and a score, and Tyler Janssen '17 rushed for 55 yards. Matt Cannone '15 was just 7 of 15 passing for 76 yards with one interception. Mark Riley '16 was the leading receiver with five catches for 45 yards.

Mark Upton '17 paced the Bates defense with 11 tackles, including a sack, and returned a fumble 34 yards for a touchdown. Ryan Newson '15 made seven solo stops and forced a fumble. Trevor Lyons '17 intercepted two passes and Gilbert Brown '15 and Josh Freedland '15 added one apiece.

Bates was unsuccessful on its first two series but Lyons' interception near midfield set up the Bobcats at their own 47, launching a 6-play, 53-yard touchdown drive. Janssen had a 16-yard rush and Cannone hit Riley for 16 on third-and-10 to keep the drive alive. On first-and-10 from the Hamilton 21, Carroll found space up the left sideline and dove over the goal line for a touchdown. Grant DeWald's point-after kick made it 7-0.

Hamilton got the ball back at its 35 after Bates' kickoff went out of bounds but the Continentals' second play on the drive proved to be their biggest setback. Rico Gonzalez '16 was wrapped up in the backfield long enough for Newson to poke the ball loose from his grasp. Upton picked up a fortunate bounce while still on his feet and he sprinted the other way for a 34-yard touchdown return and a 14-0 lead.

Hamilton was held to seven yards and no first downs on its first five possessions. The Continentals finally got one on the final play of the first quarter, a 35-yard connection from Pastorella to Caso that took the Continentals from their own 5 to their 40.

Weaver rushed for 15 yards on the first play of the second quarter, and despite two penalties of more than 10 yards committed by the Continentals that were offset by a 15-yard penalty assessed to Bates, Pastorella continued to march Hamilton down the field. He connected with Ensley for a 12-yard gain and with Donahoe for 22 yards to the Bates 13 on third-and-14. Pastorella finally hit a wide-open Jenkins for an easy 13-yard touchdown thanks to a missed defensive assignment by the Bobcats. The touchdown completed an eight-play, 99-yard drive and closed the gap to 14-7.

Hamilton was on the move again halfway through the second quarter thanks to a 54-yard connection from Pastorella to Donahoe that took Hamilton to Bates' 21. Bates' Tucker Oniskey and Freedland combined to throw LaShawn Ware '17 for a 7-yard loss, and on fourth-and-17 from the Bates 28, Pastorella threw into the end zone where Freedland made an uncontested catch for the interception and touchback.

Two plays later, Mitko stripped the ball from Janssen and it was recovered by Larabee, who returned it 4 yards to the Bates 10. Hamilton failed to get any closer to the end zone and settled for a successful 27-yard field goal by Zach Altneu '18, closing the gap to 14-10 with 5:55 left in the half. Altneu was perfect on 13 extra-points and three field goals this year.

After the teams traded punts, Bates took over at the 50-yard line with 3:22 to go in the half. Bates quickly picked up a first down on runs by Carroll and Reese before Cannone hit Williams on a short pass that turned into a 35-yard gain to the Hamilton 3. Reese barrelled into the end zone soon after for a 21-10 Bates lead at the break.

Bates dominated the second half with its running game, possessing the ball for more than 19 minutes and picking up 11 of its 18 first downs. Bates' second possession of the third quarter started at its own 38 and proceeded with eight consecutive rushes to the Hamilton 7. From there, Bates settled for a 24-yard field goal by DeWald to open up a 24-10 advantage.

The teams traded punts as the third quarter wound down, and Bates took the ball at its own 22 with 48 seconds left. The Bobcats continued to keep the ball on the ground, rushing on 11 of the next 12 plays and reaching the Hamilton 31. David Kurey's punt from the 35 was downed at the Hamilton 2.

Pastorella hit Ensley for 7 yards and some breathing room but the Continentals had to punt from there, setting up Bates inside Hamilton territory at the 47. A 25-yard scamper by Williams took Bates inside the Hamilton 10 but a botched pitch between Cannone and Carroll put the ball on the ground, and Taylor recovered at the Hamilton 11.

The Continentals gave the ball right back as an errant pass by Pastorella was picked off by Brown at the Hamilton 17 and he rumbled all the way to the 1 before he was stopped by Pastorella. Carroll danced into the end zone untouched on the next play, making it 31-10 with 6:15 left in the fourth quarter.