Football can't rally from early deficit
---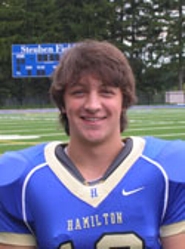 Wesleyan University running back Shea Dwyer rushed 27 times for a team-record 213 yards and scored all five Wesleyan touchdowns to carry the Cardinals to a 35-21 victory against Hamilton College in a New England Small College Athletic Conference game at Wesleyan's Corwin Stadium on Oct. 2.

Wesleyan evened its record at 1-1 and defeated Hamilton for the first time since 2007. Hamilton (0-2 overall) hosts Trinity College on Saturday, Oct. 9 for Fallcoming.

Dwyer hit paydirt for the first time at the 4:28 mark of the first quarter, capping a 10-play, 90-yard march that consumed 4:58. Dwyer had 33 yards rushing during the series, including the final two-yard burst for the TD.

On Wesleyan's next possession, Dwyer did the honors with a 29-yard screen pass to the left, darting past one would-be tackler early in the play and skipping up the left sideline for the TD. That completed a 10-play, 88-yard drive to make it 14-0 at 10:08 of the second period.

After Hamilton failed on a 4th-and-1 pass attempt at the Wesleyan 44 two series later, Wesleyan had excellent field position. Two Dwyer runs for 49 yards, the second one for 17 yards and the TD, sandwiched a 7-yard pass interference penalty to account for the 56 yards. That put the Cardinals ahead 21-0 with 2:50 left in the half. Dwyer finished the half with 135 yards rushing on 17 attempts.

Hamilton closed the gap to 21-7, scoring with 40 seconds remaining on a 1-yard sneak by QB Jordan Eck '13, and capping a 69-yard march in nine quick plays. Eck was making his first start since the end of the 2008 season. A 28-yard pass from Eck to Graham Sadler '13 got the ball to the 1-yard line.

The teams traded TDs in the second half with Wesleyan scoring first as Dwyer darted in from two yards out at 4:56 of the third period to make it 28-7. Like the last Hamilton TD, it was a pass, a 29-yard connection from junior QB Matt Coyne to junior Kyle Weiss, that got the ball close to the goal line.

Coyne completed 14 of 19 passes for 175 yards on the afternoon. Senior Pete Modera and freshman Ernest Wingate both were on the receiving end of four Coyne tosses to lead the Wesleyan receiving corps. Each had a key catch during the Cardinals' first TD drive, both going for 21 yards.

Hamilton, which got a game-high 10 receptions for 99 yards from tight end Kevin Petrick '13, scored its second half TDs on an 8-yard connection from Eck to Scott Kleinklaus '11, and a dazzling 89-yard kickoff return by Dylan Isenberg '12. Kleinklaus ended the game with five catches for 70 yards, and his second touchdown catch in as many games.

Isenberg, who was held to 48 yards rushing on 16 attempts after gaining 136 yards on 29 carries in the opener at Tufts last week, curled up the right side after receiving the ball at the 11. He then raced past two would-be tacklers around the 25 and cut across the field, eventually scoring on the left side while pulling away from the pursuing pack.

The last Hamilton player to return a kickoff for a touchdown was Claudius Zorokong '08, who ran one back 83 yards at Williams College on Oct. 27, 2007.

Before Isenberg's runback, Wesleyan had just made it 35-14 at the 5:04 mark on Dwyer's 14-yard scamper up the middle following a failed 4th-down conversion by Hamilton deep in its own territory.

Eck had a busy day for the Continentals, completing 24 of 46 passes for 267 yards. His final attempt was picked off by Brett Bandazian near midfield, giving the Cardinals the ball with 1:38 left. Three kneel-downs by Coyne closed out the contest.

Ted Finan '12, Dan Peters '13 and Mike MacDonald '13 paced the Hamilton defense with nine tackles each. MacDonald added a forced fumble. Rob Gannon '11 returned an interception 11 yards and recovered a fumble. Burke St. John '11 forced a fumble.

Wesleyan gained 398 yards to Hamilton's 325 and time of possession was just about even. First downs favored Wesleyan, 21-17.