Football coach steps down, will lead golf programs
---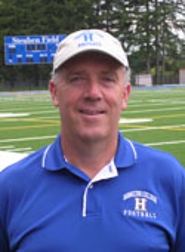 Steve Stetson, Hamilton College's Mary Jayne Comey and Mac Bristol '43 head football coach since 2006, is stepping down from that position to become Hamilton's head men's and women's golf coach effective immediately.

Click here to read an in-depth story about this subject written by Utica Observer-Dispatch sports reporter John Pitarresi '70.

In 2011, Stetson guided the football team to their highest win total in 15 years. He coached 12 all-conference selections, two all-region picks and the 2006 NESCAC rookie of the year. Stetson also served as the football program's head coach from 1982 to 1984. A national search for Stetson's replacement will begin immediately.

"For years I have had three loves: My family, football and golf," Stetson said. "I have this great opportunity to coach a sport I love, at a school I love, and I will be able to cheer for 'my' football guys at the same time!"

Stetson filled in as interim men's golf coach this spring for Al Highducheck, who stepped down after nine seasons. The women's program has held club status for several years, but will be elevated to become Hamilton's 29th varsity team this fall.

"I'm thankful that Steve will continue to mentor student-athletes at Hamilton College," Director of Athletics Jon Hind '80 said. "He's a tremendous colleague, teacher and coach. Two solid years of recruiting coupled with our most successful season in recent years leaves me optimistic about the future of our program.

"I'm excited to have Steve continue to build upon the success of the men's golf program while simultaneously developing the women's program."