Football comes up short in Rocking Chair Classic
---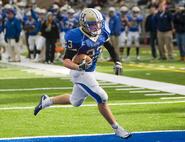 Donald McKillop '11 threw for 359 yards and two touchdowns to lead Middlebury College to a 30-26 win against Hamilton College in a New England Small College Athletic Conference game at Hamilton's Steuben Field on Nov. 6.

Middlebury (3-4 overall, 3-4 NESCAC) won the Old Rocking Chair Classic for the 15th straight year, and has captured it 23 times out of 31 meetings since the first game was held in 1980. The Panthers won on the road for the first time this year. Hamilton (1-6, 1-6) lost its third straight game.

McKillop, who ranks second in the conference in passing yards and total offense, was 30 of 46 with one interception. Nick Resor '12 caught a game-high 10 passes for 146 yards. Zach Driscoll '13 and David Reed '11 hauled in one touchdown reception apiece. Andrew Plumley '11 ran for 69 yards and one touchdown. Anthony Kuchan '11 made 3 of 4 field goal attempts, including a 34-yarder in the fourth quarter that gave the Panthers a 30-20 lead with 5:50 left.

Middlebury's Andrew Poulin '11 was credited with a game-high 12 tackles (nine solo), including one sack. Connor Green '11 helped set up a touchdown with a 33-yard interception return, and Jared Onouye '14 set up another with a blocked punt.

James Stanell '14 ran for a season-high 151 yards on 22 carries (6.9 yards per rush) and two touchdowns for the Continentals. Stanell also caught three passes for 32 yards, including a 22-yard touchdown reception, and recorded 115 yards in kick returns. Jordan Eck '13 was 21 of 30 for 224 yards with two touchdowns and one interception, and McCullough Shriver '13 had a touchdown catch.

Jared Kochenash '13 and Mike MacDonald '13 tied for the team lead with nine tackles. Jim Forrey '13 registered his team-high fifth sack, and Dylan Isenberg '12 picked off the first pass of his Hamilton career.

The Panthers scored the first 10 points and never trailed. Kuchan gave Middlebury a 3-0 lead on a 21-yard field goal with 6:45 remaining in the first quarter. The kick capped a 15-play drive that started at the Panthers' 15. McKillop connected with Matt Rayner '12 for 23 yards on third-and-nine to keep the drive alive early. McKillop was 8 of 10 passing on the drive.

The first break went the Panthers' way as Onouye blocked a punt by Hamilton's George Taylor '11, and John Wiet '13 recovered at the Hamilton 24. McKillop hit Resor for 19 yards on the next play, and then found Reed for a 5-yard scoring toss with 57 seconds left in the first.

Kuchan missed a 23-yard field goal attempt wide left with 10:00 remaining in the second quarter that would have given Middlebury a 13-0 cushion. Instead, the Continentals went 80 yards the other way in 10 plays for their first touchdown. Eck's 15-yard toss to Shriver and Taylor's extra-point pulled Hamilton within 10-7 with 3:18 left in the second. Eck was a perfect 6 of 6 and ran for 14 yards on the drive. The play before the touchdown, he completed a 19-yard pass to Kevin Petrick '13 on third-and-five.

The Panthers marched right back down the field and went up 13-7 on a 29-yard field goal by Kuchan with 34 seconds remaining in the half. McKillop's 25-yard pass to Resor at the Hamilton 15 put Middlebury in position for the kick.

The second and final turnover of the afternoon proved to be costly for the Continentals. On first-and-10 from his own 31, Eck was picked off by Green at the Panthers' 44, and Green returned it 33 yards to the Hamilton 23. On the next play, McKillop completed a 23-yard strike to Driscoll, and Middlebury had a 20-7 lead with 7:56 left in the third quarter.

The Continentals responded on the next drive as they went 67 yards in 11 plays. The key play was a holding penalty on the Panthers after an Eck incomplete pass that would have forced fourth down from the Middlebury 8. Instead, Hamilton had first-and-goal from the 4, and Stanell ran over left tackle to score the touchdown with 2:06 remaining in the third.

The Panthers started their next drive from their own 42 after a 22-yard kick return, and took advantage of the good field position. McKillop completed three straight passes for 45 yards, and Plumley rumbled in from the 15 with 11 seconds left in the third. Kuchan's PAT made it 27-14.

The Continentals answered right back with a 12-play drive that went 72 yards and was capped by a 3-yard TD run by Stanell with 10:06 remaining in the fourth. Stanell gained 43 yards on the ground during the drive, and Middlebury was called for pass interference in the end zone on fourth down, which gave Hamilton a first down at the Panthers' 3. Taylor missed the PAT, and the score was 27-20.

After Kuchan's third field goal, the Continentals embarked on one last long scoring drive. Eck was 7 of 7 for 79 yards as Hamilton covered 85 yards in eight plays and 3 minutes, 10 seconds. Eck found Stanell over the middle for a 22-yard touchdown with 2:34 left. However, Taylor missed another extra-point, and the Continentals trailed by four.

Hamilton tried an onside kick, but Middlebury recovered at the Continental 38. Hamilton called a time out with 1:38 left and the Panthers facing fourth-and-three from the 31, but McKillop calmly tossed a strike to Rayner for a first down at the 24, and the Panthers ran out the clock.

Middlebury leads the all-time series, 38-15. The Panthers host Tufts University for their season finale on Saturday, Nov. 13. The Continentals end the season with a trip to Bates College on Saturday as well.