Football downed at Wesleyan
---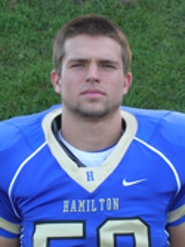 Kyle Gibson '15 racked up 244 rushing yards on 35 carries and scored the go-ahead touchdown in the third quarter as Wesleyan University topped Hamilton College 34-14 in a NESCAC game at Wesleyan's Corwin Stadium on Sept. 29.

Jesse Warren '15 completed 16 of 25 passes for 156 yards and two touchdowns and rushed for one score for the Cardinals. Kevin Hughes '14 led the team with 60 receiving yards on four catches and a touchdown. John Vassar '16 hauled in the other touchdown pass for Wesleyan. Sebastian Aguirre '14 connected on 2 of 3 field goals and all four extra-point attempts.

Jake Siciliano '15 led Wesleyan's defense with 10 tackles and Andy McKeon '13 chipped in seven tackles, including 1.5 sacks.

Hamilton was led by Jeff Hopsicker '15, who was 10 of 15 for 117 yards and a touchdown. James Stanell '14 rushed for 81 yards on 24 carries and Kevin Petrick '13 caught four passes for a game-high 74 yards. Petrick caught the third touchdown pass of his career and Pat Donadio '15 added a rushing touchdown. Garrett Hoy '13 was a perfect 2-for-2 on extra points.

Mike MacDonald '13 led all players with 13 tackles for Hamilton. Andrew Austin '14 added 12 tackles and Jared Kochenash 13 recorded 10 with a pass breakup. Dan Peters '13 forced a fumble and finished with eight stops, and Charley Bueneman '14 was credited with one sack for a six-yard loss.

The Continentals (0-2 overall) took a 7-0 lead with 9:33 remaining in the second quarter. Hopsicker found Petrick over the middle for a 35-yard touchdown as he outraced the defense into the end zone.

Wesleyan (2-0) cut its deficit to one following 25- and 22-yard field goals by Aguirre. The later was made as time expired in the first half and sent Hamilton into the locker room with a 7-6 lead.

With 7:04 remaining in the third quarter, a two-yard run by Gibson gave the Cardinals the lead for good at 13-7. The score was the start of a 21-0 run that extended into the fourth quarter. Warren's rushing touchdown came with 30 seconds left in the third quarter and gave the Cardinals a 20-7 lead.

Wesleyan scored on their first possession of the fourth quarter on a three-play, 35-yard drive that ended with a 29-yard pass to Hughes with 12:25 remaining.

Hamilton added its second touchdown on the Continentals' next possession, a nine-play drive that started at their own 39. Back-to-back completions to Petrick and Donadio for first downs led the Continentals to the Wesleyan 25. After a pass interference penalty and nine yards on the ground, Donadio punched it in from the 5-yard line and pulled Hamilton within 27-14.

The Cardinals responded right back with a 71-yard drive. On 2nd-and-11 from their own 28, Gibson broke free for a 67-yard run that brought Wesleyan down to the Hamilton 5. Two plays later, Warren found Vassar open on the right side of the end zone for a three-yard score with 4:39 to play.

The Cardinals owned a 265-65 advantage in rushing yards and a 421-182 cushion in total yardage. Wesleyan was 8 of 14 on third downs and controlled possession for a little more than 35 minutes.

Wesleyan improved its all-time record against Hamilton to 24-17-1 and defeated the Continentals for the seventh time in the last eight meetings in Middletown.

Hamilton hosts Trinity College in the Continentals' home opener during Fallcoming Weekend on Saturday, Oct. 6. The Cardinals return to action on Saturday when they travel to Colby College.