Football downed at Middlebury in Old Rocking Chair Classic
---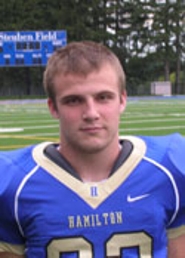 McCallum Foote '14 threw four touchdown passes and Remi Ashkar '13 ran for two more as Middlebury College defeated Hamilton College 40-21 in a NESCAC football game at Middlebury's Alumni Stadium on Nov. 5.

The Panthers (3-4 overall and NESCAC) won the "Old Rocking Chair Classic" for the 16th straight year. Middlebury and Hamilton have been playing for the Old Rocking Chair every season since 1980. The Panthers hold a 24-8 advantage in the series since the Classic was first played.

Foote finished 22 of 36 for 266 yards with one interception. Ashkar recorded 87 yards on 20 carries. Zach Driscoll '13 caught two touchdown passes, and Matt Wassel '12 and Billy Chapman '13 had one apiece. The offense was a perfect 6-for-6 on red zone opportunities and 7 of 11 on third down conversions.

Middlebury's defense was led by Zach Roeder '12, who posted a game-high 13 tackles, including two sacks, and forced a fumble. Daniel Kenerson '13 chipped in 12 stops, and Andrew Donnelly '13 forced a fumble and recovered two more. Joel Blockowicz '15 and Michael Bilodeau '12 returned interceptions 48 and 22 yards, respectively.

The Continentals (2-5) lost their fifth straight game. Hamilton's offense picked up 25 first downs, held the ball for more than 36 minutes and was 5 of 7 on fourth down. But the Continentals were undone by four turnovers. Hamilton wasn't forced to punt the entire game.

Continentals' running back James Stanell '14 recorded his first 100-yard game of 2011, and his third at Hamilton. Stanell finished with 100 yards and two touchdowns on 24 rushes. He added a career-high eight receptions for another 40 yards.

Jordan Eck '13 was 33 of 47 passing for 273 yards and two picks. Eck threw a 3-yard TD pass to McCullough Shriver '13 early in the fourth quarter. Eck's 33 completions and 273 passing yards are both career bests with the Continentals.

Dan Peters '13 led Hamilton's defense with 10 tackles and a 38-yard interception return. Peters has intercepted a pass in three straight games. Camron Waugh '13 had nine tackles and Ted Finan '12 added seven solo stops. Mike MacDonald '13 sacked the quarterback for a loss of 16 yards and blocked an extra-point attempt.

Stanell's first 1-yard touchdown run and PAT by Garrett Hoy '13 (seven catches, 60 yards) staked the Continentals to a 7-0 lead with 10:32 left in the first quarter. The Panthers scored the next three touchdowns for a 20-7 cushion with 8:43 remaining in the second quarter, and never trailed again.

Hamilton scored on the game's opening possession, driving 41 yards in nine plays after a 26-yard kickoff return by Dylan Isenberg '12. Eck hit Ryan Cray '12 four times for 40 yards on the drive before Stanell plunged into the end zone.

Middlebury answered with a 13-play, 79-yard drive that took 4:26 off the clock. Foote found Wassel for 22 yards with a 16-yard shovel pass to Ashkar before Foote and Driscoll connected for a 3-yard scoring strike. The extra-point snap was fumbled, leaving Hamilton with a 7-6 lead.

Following a missed field goal by the Continentals, Middlebury drove 75 yards to take a 13-7 lead. Connections of 17 yards to Wassel and 34 to Driscoll set up a 4-yard touchdown run by Ashkar.

Middlebury was unable to take advantage of a nice defensive play by Donnelly as he stripped Eck of the ball, kept possession and the Panthers took over at the Hamilton 47. Middlebury went three and out, but a nice punt by Wassel left the Continentals with the ball at their own 3.

Four plays later, Roeder stripped Eck, and Donnelly picked it up at the Hamilton 8. Foote found Driscoll two plays later with a beautiful fade to the corner of the end zone from 8 yards out to make it 20-7. Hamilton drove to the Middlebury 18 late in the half, but a second missed field goal as time expired left the Continentals with a 20-7 deficit at the break.

Hamilton took advantage of Middlebury's only turnover early in the second half. Peters picked off a pass at his own 28 and returned it to the Middlebury 34. Eck found Kevin Petrick '13 (five catches, 79 yards) for 23 yards, and Stanell hammered away on the ground until he reached the end zone on fourth and goal from the 1.

The Panthers answered on their next drive, benefiting from a pair of pass interference penalties with a 2-yard plunge by Ashkar, his second touchdown of the game. The Panthers led 27-14 with 7:25 left in the third quarter.

Middlebury added to the lead on its next possession. Foote hit Ashkar for a 16-yard screen pass, and then Foote found Chapman with a bullet over the middle for an 8-yard scoring strike to make it 33-13.

Hamilton scored its last touchdown early in the fourth quarter. Eck found Shriver for a 3-yard score that cut the Middlebury lead to 33-21. Middlebury gained some breathing room on its next drive. The Panthers moved 67 yards in seven plays, capped by an 11-yard pass from Foote to Wassel, who made a great grab in the corner of the end zone for the final margin with 10:27 remaining.

The Continentals held a 376-363 edge in total yards. Hamilton finishes 2011 with a home game against Bates College on Saturday, Nov. 12.