Football drops 2010 opener at Tufts
---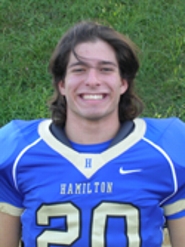 Quarterback Anthony Fucillo returned to the Tufts University line-up and threw for 255 yards and two touchdowns as the Jumbos opened the 2010 season with a 21-10 victory over Hamilton College at Tufts' Ellis Oval/Zimman Field on Sept. 25.
Fucillo, who missed all of last season with an injury, threw a 52-yard scoring pass to senior Pat Bailey in the second quarter and a two-yard TD pass to senior Billy Mahler in the third.
The Jumbo defense kept the Continentals out of the end zone until the fourth quarter despite a good game from Hamilton running back Dylan Isenberg '12, who carried 29 times for 136 yards. Isenberg's rushing yardage is the most by a Continental since Brandon Holtslag had 230 in a 51-48 overtime win against Bowdoin College on Oct. 16, 2004.
The only good scoring chance of the first quarter was fumbled away by the Jumbos. A 26-yard Fucillo to Mahler pass set Tufts up first and 10 at the Continental 10, but the quarterback was sacked by Hamilton's Rob Gannon '11 and the ball was recovered by Burke St. John '11.
On the following Hamilton possession, a shared sack by Jumbos Ferras Albitar and Donnie Simmons forced a Continental punt. Fucillo passed 25 yards to sophomore Mike Howell on first down to the Jumbo 41. Four players later, Bailey took a Fucillo pass over the middle and went untouched to the end zone for a 7-0 Tufts lead at 12:13 of the second quarter.
That was the start of a succession of scores in the game. Hamilton was moving the ball well on its next opportunity. They converted a third and 10 when QB Lance Wilson '11 passed for 13 yards to RB Mark Snickenberger '11. A 17-yard Wilson to Ryan Cray '12 connection put the Continentals at the Tufts 21. However, after Wilson was sacked by Jumbo Sam Gardner, he was then intercepted by Sam Diss and the Tufts sophomore maneuvered 74 yards for a touchdown to give the hosts a 14-0 advantage at 6:09 of the second quarter.
The Continentals answered with their first score of the game. Isenberg had a 22-yard gain early in the possession. On third and four, Snickenberger rushed for five yards and a first down at the Jumbo 17. Wilson and Cray hooked up again down to the Jumbo 9, an 11-yard gain, but the Jumbo defense stiffened and the vistiors were held to a 28-yard field goal by George Taylor '11 with 31 seconds remaining until halftime.
Hamilton possessed the ball for 23:52 of the first half, compared to 6:58 for Tufts, but the Jumbos took a 14-3 lead into the locker room.
Tufts added to its lead early in the third quarter, mounting an eight-play, 76-yard drive. Fucillo and Mahler (six catches, 85 yards) joined up for two big gains, 31 yards into Hamilton territory and then 17 more to the Continental 25. A 21-yard Fucillo to Greg Stewart pass put Tufts on the verge of the end zone, and Fucillo and Mahler finished it off from two yards out for a 21-3 margin at 10:49 of the third.
The Jumbos defense twice stopped Hamilton on fourth down in Tufts territory. Early in the fourth quarter on a Hamilton fourth down from the Tufts 12, sophomore Jumbo Tommy Castle broke up a pass. On the next Continental drive, senior LB Brian Danshaw forced a fumble that was recovered by junior Ian Levinsky.
Hamilton scored their lone touchdown with 5:31 remaining in the fourth, a nice 21-yard grab by Scott Kleinklaus '11 from Wilson. On the previous play, they had converted a fourth and five with a 15-yard completion from Wilson to Kevin Petrick '13.
Tufts (1-0) improved its winning streak against Hamilton (0-1) to nine games dating back to 1991. In addtion to Mahler, Stewart finished with five receptions for 67 yards. Freshman Ryan Pollock led the ground game with 33 yards on 11 carries as Tufts finished with 67 yards rushing. Diss added two kickoff returns for 54 yards and five tackles (two for losses) to his strong game. Albitar and senior Matt Murray led the Jumbos with nine tackles apiece.
Hamilton's Wilson completed 16 of 37 passes for 158 yards, including four balls for 52 yards to Cray. Taylor punted impressively for the Continentals, averaging 40.3 yards on seven kicks. The Hamilton defense was paced by 11 tackles from LB Mike MacDonald '13 and nine by Gannon.
Tufts plays its Homecoming Game next Saturday against Bates at Ellis Oval. Hamilton heads back on the road to play at Wesleyan that day.