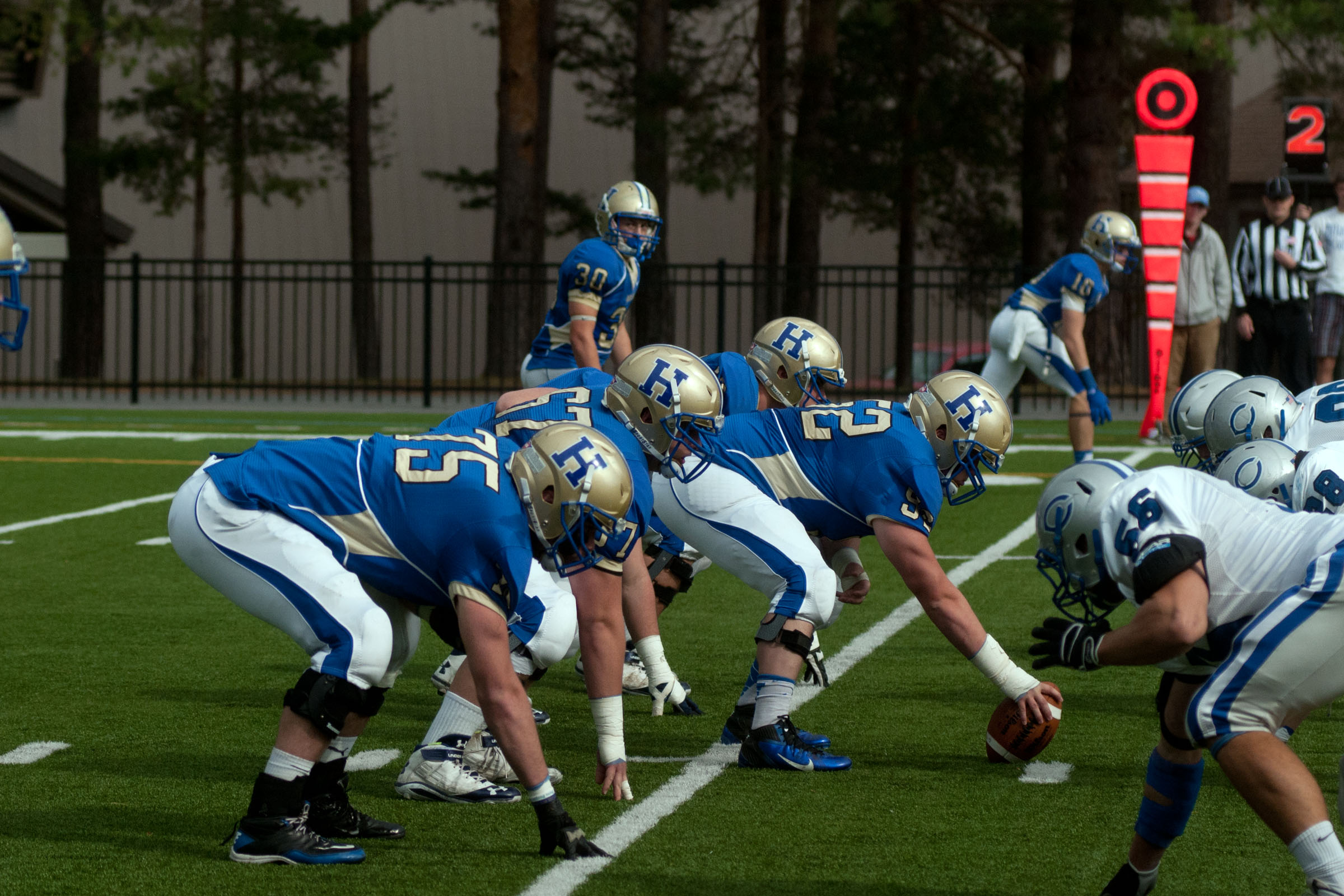 Gus Ackley '17 and Nick Gaynor '17 scored touchdowns for Trinity College and the Bantams' defense dominated once again in Trinity's 19-7 NESCAC win against Hamilton College at Hamilton's Steuben Field on Oct. 4.

Box Score

Trinity (3-0, 3-0 NESCAC) has won four straight games dating back to last year. The Bantams lead the all-time series 36-11-1 and have won 20 consecutive games against the Continentals.

Hamilton (0-3, 0-3) finished plus-3 in turnover margin and had the ball for more than 36 minutes.

Trinity's Chudi Iregbulem '15 ran for a game-high 85 yards on 20 carries and Ackley added 60 yards on the ground, including a 54-yard score. Gaynor caught four passes for 61 yards. Henry Foye '16 completed 12 of 25 passes for 148 yards with one interception and a 26-yard TD toss to Gaynor.

On special teams for the Bantams, Ben Rosenblatt '17 booted a 23-yard field goal and Kyle Pulek '16 averaged 43.8 yards on eight punts. Pulek's longest punt traveled 57 yards and he pinned two of them inside the Continentals' 20-yard line.

Trinity's defense allowed just 175 yards and held Hamilton to 6 of 22 on third-down conversions. Tom Szymanski '15 was credited with a game-high 12 tackles, including one sack. Frank Leyva '16 made 11 stops and forced a fumble.

For the Continentals, Chase Rosenberg '17 was 13 of 30 passing for 128 yards and ran for a touchdown. Pat Donadio '15 made five catches for a game-high 64 yards and Jeff Hopsicker '15 gained 29 of Hamilton's 47 yards rushing.

Amman Weaver '18 returned a kick 41 yards for the Continentals and Patrick Donahoe '16 dropped two punts inside the Bantams' 20. Donahoe's longest punt on Saturday went 45 yards.

Hamilton's defense forced two fumbles and recovered a pair. Jimmy Giattino '17 intercepted his first pass for the Continentals and Matt Glebus '17 recorded a career-high nine tackles. Alex Mitko '16 and John Phelan '16 made nine tackles apiece and Mitko recovered a fumble. Nick Sobczyk '17 posted a collegiate-best eight stops and recovered a fumble. Michael de Percin '15 and Brent Lobien '17 forced one fumble apiece.

It seemed as if the teams were going to head to the locker rooms in a scoreless tie at the half after the first 10 drives ended with punts. Trinity's final drive of the first half started at its own 49 after Ackley returned a punt 15 yards with 1:44 left in the second quarter.

Iregbulem ran for 22 yards on the first three plays of the drive, and a personal foul call on Hamilton gave the Bantams a first down at the Continentals' 15-yard line. Foye completed two short passes and Trinity had third-and-one at the 6 with 29 seconds left. After a timeout, de Percin and Lobien stopped Iregbulem for no gain. The Bantams hurried their field goal unit onto the field and Rosenblatt nailed the 23-yarder with three seconds to go.

Trinity tried to increase its lead midway through the third quarter but Giattino picked off a Foye pass at the Hamilton 4 after the Bantams had driven 60 yards in four plays.

The Continentals' next drive ended with a 45-yard punt by Donahoe that was muffed by Ackley before the ball bounced out-of-bounds at the Trinity 46. Ackley atoned for his mistake by running 54 yards down the left sideline on the next play for a 9-0 lead with 6:11 remaining in the third quarter. Rosenblatt's extra-point made it 10-0.

The Bantams increased their advantage to 12 points on the next series, which started at the Hamilton 20. Yosa Nosamiefan '17 sacked Rosenberg for an 8-yard loss, the Continentals backed up another 5 yards after a false start penalty and Nathaniel Hitchcock '17 stopped Rosenberg for a 3-yard loss back at the 4. On the next play, Rosenberg lost the ball in the end zone and fell on it for a safety with 4:30 to go in the third.

The score remained 12-0 until early in the fourth quarter. Standing in his own end zone, Donahoe punted the ball 25 yards to Ian Dugger '16 at the Hamilton 29 and Dugger returned it 3 yards. On the next play, Foye found Gaynor for a 26-yard score with 11:45 left. Rosenblatt's PAT made the score 19-0.

The Continentals finally broke through midway through the fourth quarter. Lobien forced a fumble by Iregbulem that was recovered by Mitko at the Trinity 25. On third-and-four, Rosenberg completed an 11-yard pass to Hopsicker down to the 8. After an unsportsmanlike conduct penalty on Trinity gave Hamilton first-and-goal at the 3-yard line, Hopsicker rushed twice for 1 yard apiece before Rosenberg plunged into the end zone from the 1. Zach Altneu '18 made the score 19-7 with 6:54 remaining. The touchdown was just the second given up by the Bantams this year.

The Continentals didn't get back into Trinity territory the rest of the game. Both teams finished with 12 first downs. The Bantams finished with 323 yards of offense, including 175 on the ground, and was 5 of 16 on third-down conversions.

Hamilton hosts Bowdoin College on Saturday, Oct. 11, at noon while Trinity hosts Tufts University on Saturday at 1:30 p.m.