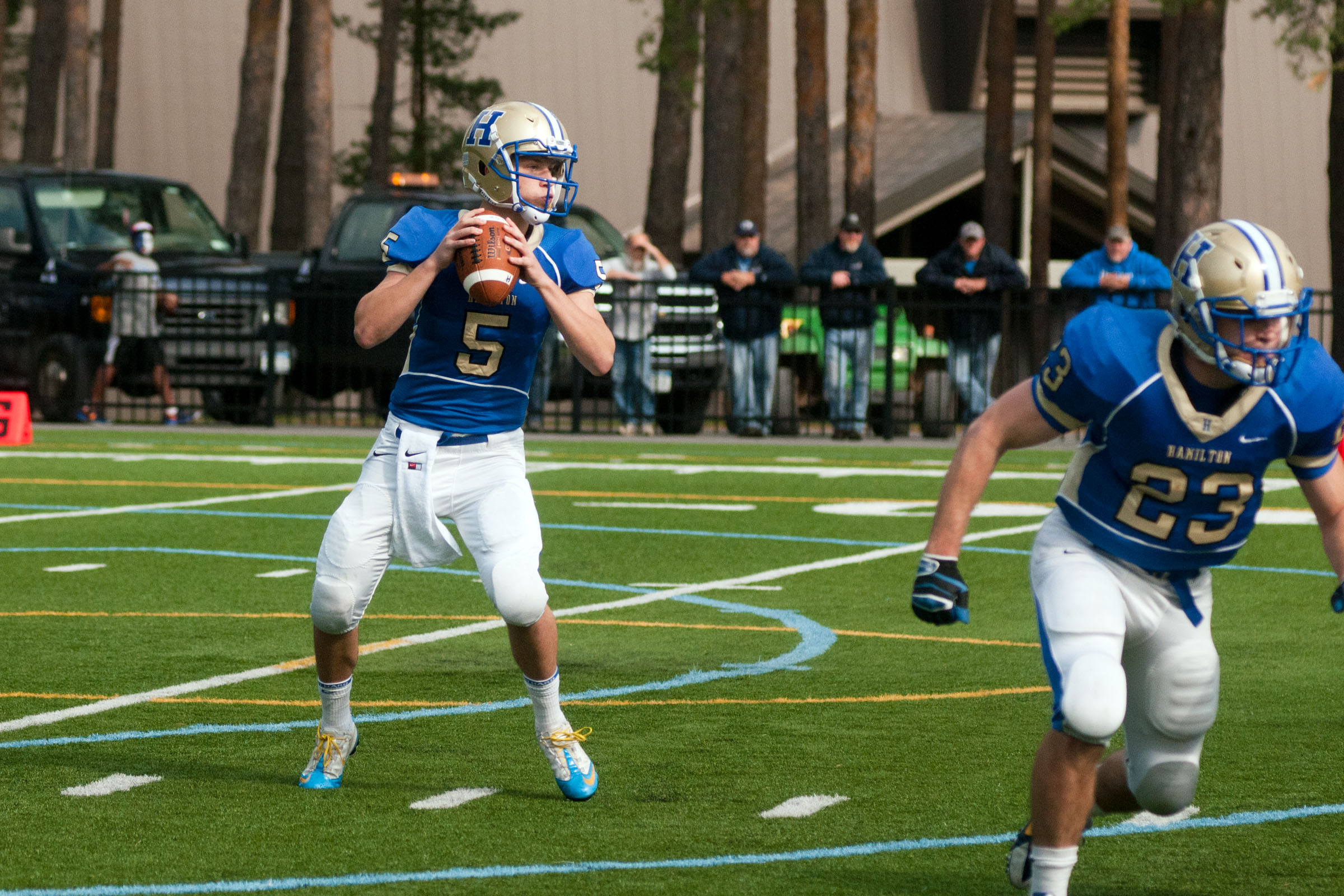 Tufts University's Zack Trause caught a touchdown pass and ran for another as the Jumbos held on for a 24-17 NESCAC win against Hamilton College at Tufts' Ellis Oval/Zimman Field on Sept. 20.

Box Score

The game was the 2014 opener for both teams. Tufts leads the all-time series, 14-5.

Jack Doll completed 13 of 19 passes for 107 yards and the 8-yard touchdown to Trause for the Jumbos. Chance Brady ran for 69 yards and a touchdown, and Vince Falk kicked a 30-yard field goal early in the second quarter that put Tufts ahead for good at 10-7.

Mike Stearns led the Jumbos' defense with 18 tackles, including 16 solo stops. Michael DeFeo intercepted a pass and Evan Anthony was credited with two of Tufts' four sacks.

Charles Ensley '17 tied a Hamilton school record with 14 catches. Adam Hodges had the same number of receptions in 1996 against Wesleyan University. Ensley finished with 175 yards, including a 24-yard touchdown catch 1:55 into the second quarter. He entered the game with 11 yards receiving.

Chase Rosenberg '17 was 30 of 50 passing for 301 yards with two touchdowns and one interception. The completion and yardage totals are both career highs. Rosenberg also carried the ball 13 times for 62 yards.

Jeff Hopsicker '15 -- in his first game at running back -- gained 54 yards on 13 attempts. Hopsicker added eight catches for 44 yards and Nick Caso '16 finished with a career-best 55 yards receiving. Pat Donadio '15 had his sixth career touchdown reception. Zach Altneu '18 booted a 28-yard field goal in his first game for the Continentals.

The Hamilton defense surrendered just 12 first downs and 236 total yards. Cade Larabee '16 led the way with nine tackles and John Phelan '16, Nick Sobczyk '17, Matt Glebus '17 and Brett Lobien '17 had seven each.

One of Anthony's sacks led to Tufts' first score. His 8-yard sack on third down set up a fourth-and-14 which Hamilton could not convert. The Jumbo offense took over and went 85 yards in 15 plays to take a 7-0 lead on Brady's 32-yard touchdown with 3:20 left in the first quarter. Doll and Mike Rando hooked up for a 25-yard completion early in the drive. The Jumbos also converted a fourth-and-three during the possession with a 4-yard Brady run.

Rosenberg's 45-yard run on the next Hamilton opportunity set up first-and-goal on the Jumbo 5. The Continentals had a touchdown nullified by a holding penalty and then they were stopped on fourth down. The first quarter ended with Tufts leading, 7-0.

After Tufts took over at its own 2, the Hamilton defense stepped up and forced the hosts to punt out of their own end zone. After getting the ball on the Jumbo 30, the Continentals needed just two plays to tie the score at 7-7 on a 24-yard Rosenberg-to-Ensley pass play with 13:05 to go in the second.

Rando, who had opened the game with a 59-yard kickoff return, brought one back 67 yards to the Hamilton 16 that set up Falk's field goal with 11:41 remaining in the second quarter.

An 11-yard sack by Anthony forced a Hamilton punt and the Jumbos scored on their second straight possession. They went 45 yards in nine plays, including a 15-yard Rando reception from Doll to convert a third down. Trause scored from 8 yards out on third-and-goal with 7:43 on the clock. The extra point hit an upright and Tufts' lead was 16-7.

With time winding down in the half, Hamilton moved to the Jumbo 18 with Caso twice converting third downs on 16- and 12-yard catches. However, the Jumbo defense held again as Tommy Meade sacked Rosenberg for a 12-yard loss on third down. Hamilton couldn't convert on fourth down and the Jumbos went to the break leading by nine.

The Continentals posed the first scoring threat of the third quarter, moving to the Jumbo 24 with a 48-yard reception by Ensley and an additional 15 yards on a Tufts face mask penalty. However, Tufts made another stop as Matt McCormack tackled Hopsicker for a 3-yard loss on fourth down.

Hamilton closed within 16-10 after a Jumbo fake punt attempt failed. The Continentals took over at the Jumbo 28 and scored on Altneu's 28-yard field goal with 2:02 remaining in the third.

Brady returned a short Continential kickoff 24 yards to midfield. Early in the drive, a 30-yard pass from Doll to Ben Berey converted a third-and-11 to the Hamilton 20 as the third quarter ended. An 8-yard run by Trause on third-and-five put the Jumbos at the 7 and a pass interference call against Hamilton gave Tufts first and goal on the 1. Trause took it in with 13:08 left in the fourth and Doll connected with Xavier Frey on a two-point conversion for a 24-10 Jumbo margin.

DeFeo intercepted Rosenberg deep in Tufts territory on the next drive. With Tufts trying to run out the clock, the Hamilton defense did its part and gave the offense three more shots. A QB hurry by James Brao and a pass break-up by Quinn Metoyer stopped the Continentals on consecutive fourth downs.

Taking over with 2:35 left in the fourth, Hamilton went 57 yards in eight plays to cut the gap to 24-17. Rosenberg had an 18-yard run during the drive and found Donadio in the end zone from 3 yards out with 25 seconds remaining. That forced an onside kick, which Tufts' Jack Cooleen recovered to seal the victory.

The Continentals gained 416 yards of offense but were penalized 12 times for 117 yards. Hamilton was 1 of 8 on fourth-down conversions and scored twice on six trips in the red zone.