Football ends 2011 with third win
---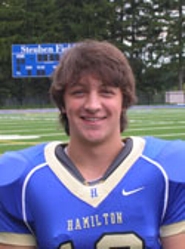 Jordan Eck '13 tied a career high with three touchdown passes to lead Hamilton College to a 28-15 win against Bates College in a NESCAC game at Hamilton's Steuben Field on Nov. 12.

Both teams finished the year with a 3-5 overall and conference record. Hamilton won more than two games in a season for the first time since 1996 when the Continentals went 5-3, and ended their losing skid at five games. Bates failed in its bid for the Bobcats' first .500 season since 1999. The all-time series is tied at 17 wins apiece.

Eck was 21 of 34 for 250 yards with one interception on the first play of the fourth quarter. Garrett Hoy '13 caught six passes for a career-best 94 yards, and was 4-for-4 on extra-point attempts. James Stanell '14 ran for 52 yards and one touchdown, and added 24 receiving yards. Patrick Donadio '15 caught two TD passes and Ryan Cray '12 had one.

Hamilton's defense sacked Bates quarterback Trevor Smith '13 five times and forced Smith to fumble twice. Austin Durham '15 and Mike MacDonald '13 were credited with 13 tackles apiece. Durham also forced a fumble. Jacob Sheetz-Willard '12 had 10 tackles and a sack, and Dan Peters '13 ended up with nine tackles. Camron Waugh '13, Ian Milne '15, Charley Bueneman '14 and Jim Forrey '13 added sacks.

Smith was 18 of 43 for 181 passing yards with the two lost fumbles. Ryan Curit '14 ran for a game-high 76 yards and had seven receptions for 71 yards. Patrick George '13 added 73 rushing yards and two touchdowns. The Bobcats racked up 178 rushing yards.

Kevin Helm '12 led the Bates defense with nine tackles, including a sack. Gilbert Brown '15 and Brett McAllister '12 posted seven stops apiece. Kyle Starr '13 recorded his fifth interception of 2011.

The Continentals jumped on top early in the first quarter. On the Bobcats' second play from scrimmage, Durham forced a fumble by Smith that was recovered by Ted Finan '12 at the Bates 28-yard line. Eck completed a pass to Donadio for 11 yards and Stanell ran 14 yards to the Bobcats' 3. After Eck rushed for no gain, he found Donadio in the back of the end zone with 11:57 left.

Bates tied the score with an eight-play, 65-yard drive midway through the first. George gained 50 of those yards, including a 26-yard run off tackle that ended with George diving into the front right corner of the end zone. The point-after by Charlie Donahue '14 made it 7-7 with 6:25 remaining.

Hamilton grabbed the lead back for good on its next possession. Stanell capped the nine-play, 63-yard drive on a 2-yard touchdown run -- his sixth TD this year -- with 1:51 left. Eck completed all seven of his pass attempts, including a 28-yard strike to Hoy.

The Continentals extended their lead to 21-7 early in the second quarter. After forcing the Bobcats into a three plays-and-out series, Hamilton went 75 yards in just four snaps. Eck lost 3 yards after he was sacked by Helm to start the drive. But he threw 26 yards to McCullough Shriver '13, another 28 yards to John Fisher '15 and finally 24 yards to Cray for the score with 13:40 left.

Eck extended the Continentals' advantage midway through the second. During an 11-play scoring drive, he threw for 68 yards and ran for 17 more. Eck ran 10 yards for a first down on third-and-8, and then found Donadio on the left side of the end zone for a 13-yard scoring toss on third-and-10. Hoy's extra-point made it 28-7 with 6:04 remaining.

The defenses held the upper hand in the second half as neither team scored until 6:44 was left in the fourth quarter. A 50-yard punt by Bates' David Kurey '15 was downed at the Hamilton 1. On the next play, Tyler Kuehl '12 and Andrew Kukesh '14 tackled Stanell in the end zone for a safety that pulled the Bobcats within 28-9.

Bates retained possession after a free kick by the Continentals, and the Bobcats drove 62 yards in 13 plays. Smith found Curit for 20 yards on third-and-6 to the Hamilton 15, and the pair hooked up again for a 4-yard gain on fourth-and-3 to the 4. Finally, George bulled into the end zone on fourth-and-goal from the 1 with 4:04 remaining. The two-point conversion attempt failed, and Bates trailed 28-15.

The Continentals gained just 15 yards on their next possession, but ran nearly three minutes off the clock. The Bobcats had the ball just once more, and turned it over on downs at the Hamilton 49.

Bates held a 359-319 advantage in total yards, but was just 1 of 4 on red zone chances.