Football falls at Amherst in season opener
---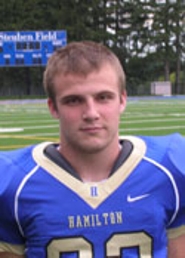 Ryan Silva '14 rushed for 170 yards and his first career touchdown as Amherst College pulled away in the second half and defeated Hamilton College 38-14 in the 2012 NESCAC opener for both teams at Amherst's Pratt Field on Sept. 22.

Tyler Jacobs '15 (97 yards) and Steven Jellison '14 (59 yards) each ran for their first career touchdowns, and the Lord Jeffs outgained Hamilton 376 to 60 on the ground. Max Lippe '15 threw for two touchdowns and 116 yards on 12-of-18 passing and rushed for 19 yards on six carries in his collegiate debut. Wade McNamara '14 led the receiving corps with four catches for 55 yards and a touchdown.

Sam Clark '13 led Amherst's defense with nine tackles and Travis Dickenson '13 chipped in seven tackles, including 3.5 for a loss.

Jeff Hopsicker '15 completed 12-of-25 passes for 116 yards and a touchdown in his first game at Hamilton. James Stanell '14 returned a kickoff 94 yards for a score and added 31 yards rushing on 16 carries. The touchdown return is the second of Stanell's career with the Continentals. Joe Jensen '15 led the receivers with four receptions for 51 yards and a touchdown.

Jared Kochenash '13 led all players with a career-high 12 tackles for Hamilton. Mike MacDonald '13 and Andrew Austin '14 added 11 tackles apiece.

After forcing the Continentals to punt on their first possession, the Lord Jeffs capitalized with a seven-play, 48-yard drive capped by a five-yard touchdown pass from Lippe to Tom Holahan '13 with 10:20 remaining in the first quarter. It was the first career touchdown for both players.

Hamilton tied the score on Stanell's 94-yard kick return along the right sideline and the extra-point by Garrett Hoy '13. Amherst reclaimed the lead after an eight-play, 74-yard drive that ended with a 35-yard touchdown run by Silva with 7:25 to play in the first quarter.

Three plays after a punt by Hoy that was pinned at the Amherst 1-yard line, Silva broke off a 49-yard run that ended the first quarter. The drive resulted in a 32-yard touchdown pass to McNamara and a 21-7 lead for the Lord Jeffs.

The Continentals answered back on their next possession with an eight-play, 62-yard drive. Hopsicker racked up 57 yards passing on the drive, including a 36-yard touchdown strike to Jensen with 6:39 remaining in the half. That touchdown proved to be the final points of the half, and Amherst took a 21-14 lead into the locker room.

Amherst dominated both sides of the ball in the second half. Jellison scored on a 29-yard run on the first drive of the third quarter. The Lord Jeffs added a 36-yard field goal by Jake Schmidt '14 with 6:50 remaining in the third quarter to take a 31-14 lead. Amherst tacked on one last score in the fourth quarter. Jacobs rushed untouched down the right sideline for a 56-yard touchdown with 4:46 left.

Hamilton travels to Wesleyan University for a NESCAC matchup on Saturday, Sept. 29.