Football tripped up at Trinity
---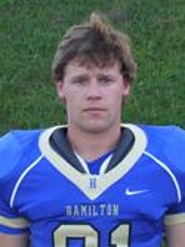 Hamilton College fell 38-8 to host Trinity College in a New England Small College Athletic Conference game played at Jessee/Miller Field on Oct. 10.
Oliver Starnes '10 recorded 166 all-purpose yards and scored two touchdowns to lead Trinity. The Bantams (3-0 NESCAC) are ranked No. 1 in New England. The Continentals (1-2) threw five interceptions and lost one fumble.

Trinity jumped out to a 10-0 lead after John Marinelli '10 gave the Bantams extra chances in the first quarter by intercepting the first two throws of the game by quarterback Lance Wilson '13 on Hamilton's opening two drives. Starnes recorded 46 yards on the ground to go along with a touchdown in the first quarter.

Leading 10-0 midway through the second quarter, Trinity connected on a 40-yard touchdown pass with 5:53 remaining. Trinity added another touchdown less than two minutes later when Starnes took the ball on Trinity's own 48-yard line and sprinted 52 yards to put the Bantams up 24-0.

On Hamilton's last possession of the half, Wilson accounted for 53 all-purpose yards on a 55-yard drive, which he capped with a two-yard touchdown pass to Donovan Flint '11 with 3 seconds left. Wilson completed a two-point conversion toss to Max Foster '10 to cut the score to 24-8. Foster finished the game with a game-high eight catches for 96 yards to lead the Continentals. Wilson threw for 170 yards.

Dan Peters '13 (7-for-19, 86 yards) came in at quarterback in the third quarter for Hamilton and drove the Continentals 70 yards to the Trinity 7. On the first play of the fourth quarter, Peters was sacked on fourth-and-goal to end the threat.
Trinity added to their lead later in the fourth on a 20-yard touchdown pass. The Bantams scored again on a 5-yard run with 1:16 left to seal the game. Chris Doval '10 had three of Trinity's six sacks. The Bantam defense allowed just 16 rushing yards.

John Lawrence '10 led the Hamilton defense with a game-high 11 tackles (eight solo). Lawrence also recorded one sack, his 11th career interception and broke up a pass. Landrey Mack '11 was credited with nine tackles. Brian O'Malley '10 and Will Finan '10 each added seven stops. Jacob Sheetz-Willard '12 forced a fumble and James Gillan '11 picked up his second career sack.
The Continentals return to action on Saturday, Oct. 17, when they travel to Bowdoin College for a NESCAC game at noon.