Football falls in final game of 2013
---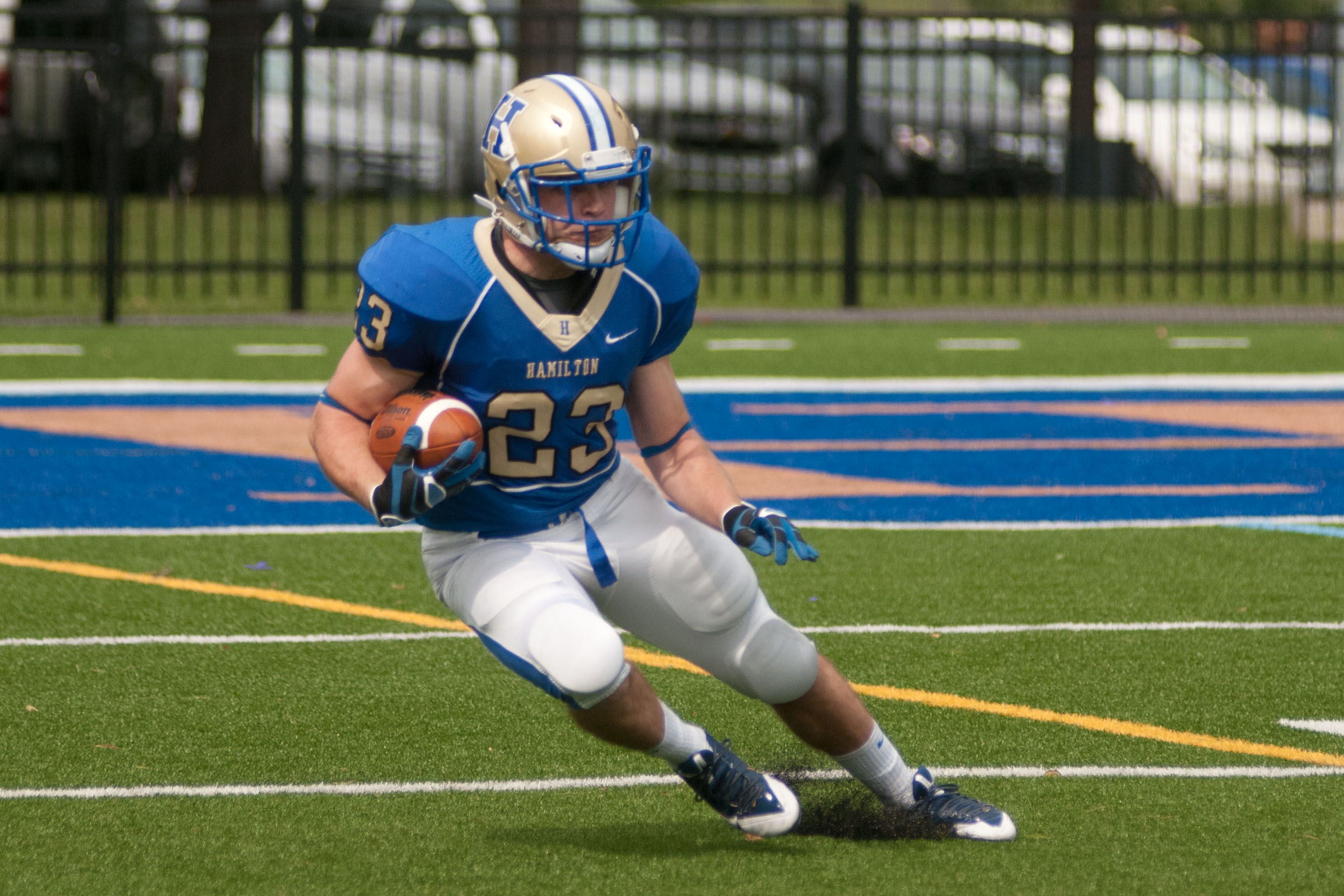 Bates College's Shawn Doherty '14 ran for 127 yards and a touchdown on just 16 carries and the Bobcats defeated the Hamilton College Continentals 38-21 in the 2013 NESCAC finale for both teams at Hamilton's Steuben Field on Nov. 9.

Bates (4-4, 4-4 NESCAC) jumped out to a 21-0 lead in the first quarter and never trailed. The Bobcats evened the all-time series with Hamilton at 18 wins apiece. Bates has won eight of the last 10 meetings.

The Continentals (0-8, 0-8) suffered through their first winless season since 2002 and have dropped 12 games in a row dating back to last year. Hamilton trailed the Bobcats 31-7 at the half but battled back to within 31-21 midway through the fourth quarter.

Matt Cannone '15 was 9 of 14 passing for 165 yards and two touchdowns with one interception for Bates. Kevin Davis '14 was the team's leading receiver with three catches for 68 yards. The Bobcats finished with 299 rushing yards and were 8 of 14 on third-down conversions.

Andrew Kukesh '14 led the Bates defense with 11 tackles and two interceptions. Mark Upton '17 and Steven Hild '15 were credited with eight stops apiece and Pat Gilligan '15 registered a sack.

For the Continentals, James Stanell '14 rushed for a season-high 152 yards and two scores. Stanell passed Bill Romaine '79 for third place on the team's all-time rushing list with 2,138 yards in his career. Stanell is one of just four players in program history with more than 2,000 career yards, and he finished his career with 23 touchdowns.

Chase Rosenberg '17 was 20 of 40 passing for 150 yards with a TD and two interceptions for Hamilton. He also ran for a season-high 90 yards. Rosenberg's favorite target was Nick Caso '16, who caught a career-high seven passes for 52 yards.

John Phelan '16 and Andrew Austin '14 recorded 12 tackles apiece for the Continentals. Zach Klein '15 picked off the first pass of his career and picked up a sack. Darren Fuller '14 had a sack and recovered a fumble.

The Bobcats grabbed a 6-0 lead on the day's second play from scrimmage. Doherty returned the opening kickoff 61 yards to the Hamilton 27-yard line, and Cannone lofted a 30-yard pass down the left sideline and into the end zone to Davis, who had a step on his defender. Charlie Donahue '14 added the point-after for a 7-0 advantage just 53 seconds into the first quarter.

Cannone helped give Bates a two-touchdown cushion with 7:54 remaining in the opening quarter. From his own 37, Cannone found Mark Riley '16 over the middle. Riley, who was in 1-on-1 coverage, was open because his man fell down and he sprinted 63 yards untouched into the end zone.

Doherty pushed the Bobcats' lead to 21-0 with another big play on the Bobcats' next drive. He reached the corner on a run around right end from his own 24 and found the sideline. Doherty was nearly pushed out a couple times but managed to stay inbounds and cruised into the end zone for a 76-yard TD run with 5:44 to go in the first.

Hamilton responded with a 12-play touchdown drive that covered 70 yards and took more than five minutes off the clock. Rosenberg's 32-yard run and a pass interference penalty on Bates on fourth down were the big plays on the drive. On fourth-and-goal from the 6, Rosenberg dropped back and found Pat Donadio '15 on a quick slant from his left over the middle in the end zone. Patrick Donahoe '16 added the extra-point and it was 21-7 with 3 seconds left in the first.

The Bobcats restored their 21-point lead on their next possession. The seven-play, 65-yard drive was all running plays, including a 27-yard jaunt by Shaun Carroll '16 and a 3-yard keeper off right tackle into the end zone by backup quarterback Nick LaSpada '17. Donahue's PAT made it 28-7 with 12:25 remaining in the second quarter.

Kukesh's first interception set up Bates' next scoring drive. He picked off Rosenberg at the Bobcats' 45 and returned it to the 50-yard line. A holding penalty on Bates wiped out a 36-yard touchdown run, but a 24-yard pass from Cannone to Davis put the Bobcats down at the Continentals' 8. Four plays later, Donahue booted a 31-yard field goal for a 31-7 lead with 6:38 to go in the first half.

The score remained 31-7 until late in the third quarter. Hamilton's Klein picked off Cannone at the Bates 35 and returned it 8 yards to the 27. On third-and-20, Rosenberg found Donahoe for 13 yards, and completed an 11-yard pass to Caso on fourth down. Stanell ran 13 yards up the middle to paydirt on the next play, and it was 31-13 with 1:18 left in the third.

After a 53-yard punt by the Bobcats' David Kurey '15 pinned the Continentals at their own 1 early in the fourth quarter. Hamilton embarked on a 15-play touchdown drive that took 5:37 off the clock and pulled the Continentals within 10 points. Hamilton twice picked up first downs on fourth-down plays. Stanell got 1 yard on fourth-and-one from his own 29, and Rosenberg completed a 6-yard pass to Charles Ensley '17 at the Bates 29 on fourth-and-one. A defensive pass interference penalty made it first-and-goal at the 8, and Stanell bounced an inside run out to the right and into the end zone on the next play. Rosenberg passed to Ensley for the two-point conversion and it was 31-21 with 7:21 remaining.

The Continentals tried an onside kick but a Hamilton player touched the ball before it went 10 yards. The Bobcats took over at the Hamilton 44 but the Continentals' defense stiffened and Bates was forced to punt. Hamilton started its next drive at its own 8 with 4:16 to go. On fourth-and-two from the 16, Stanell was stuffed for a 1-yard gain, and the Bobcats took over. Ryan Curit '14 carried the ball three straight plays, including an 8-yard gain off right tackle for a touchdown that sealed the win for Bates. Donahue's PAT was good and it was 38-21 with 2:25 left.

The Bobcats finished with 464 yards of offense and the Continentals racked up 392. Both teams committed four turnovers. Hamilton ended up 4 of 6 on fourth-down conversions.