Football falls in home opener
---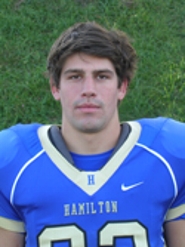 Dante Astheimer '14 ran for 111 yards and a touchdown on just eight carries to lead Trinity College to a 41-7 rout of Hamilton College in a New England Small College Athletic Conference football game at Hamilton's Steuben Field on Oct. 9.

Trinity (2-1 overall, 2-1 NESCAC) finished with 419 yards of offense and limited the Continentals to eight first downs and 107 yards. The Bantams gained 280 yards on the ground and picked off four passes. Hamilton (0-3, 0-3) finished with minus-4 rushing yards.

Nana Appah-Sampong '12 ran for 80 yards and one touchdown for Trinity. Evan Bunker '14 and Hedley Jennings '14 ran for one touchdown apiece. Starting quarterback Craig Drusbosky was 9 of 13 for 109 yards and two touchdowns. Michael Galligan '11 and Andrew Grombala '13 had the touchdown receptions.

Walter Fallas '12 led the Bantams' defense with six tackles, including two for a loss of three yards. Harry Melendez '11 had two of the four interceptions. Rae Haynes '13 and Ben Sherry '11 had the others. Matt Walker '12 finished with two sacks.

McCullough Shriver '13 caught eight passes for 36 yards for the Continentals. Starting quarterback Jordan Eck '13 was 7 of 14 for 47 yards and two interceptions. Lance Wilson '11 relieved Eck at the start of the third quarter and was 4 of 11 for 30 yards and two picks. Steve Mello '11 came on in the fourth quarter and was 3 of 7 for 34 yards. Mello tossed a 29-yard touchdown pass to Graham Sadler '13 down the right sideline with 2:31 left in the fourth quarter.

Jim Forrey '13 and Rob Gannon '11 were credited with a game-high seven tackles apiece for Hamilton. Forrey recorded two sacks and a total of four tackles for a loss of 18 yards.

Trinity set the tone early when they called a fake punt on 4th-and-1 from its own 34 on the first drive. The snap went to Sherry, who ran five yards for the first down. The Bantams ended their 13-play, 75-yard drive with a 10-yard TD pass from Drusbosky to Grombala.

On the Continentals' second play from scrimmage, Melendez picked off an Eck pass at the Hamilton 34 and returned it 14 yards. Two plays later, Bunker scored from 14 yards out, and a Luke Whitman '11 PAT made the score 14-0.

Hamilton went three-and-out on its next drive, and Trinity made it 21-0 with a seven-play drive that covered 80 yards. Astheimer carried four times for 39 yards on the drive, including 5 yards for the touchdown with 40 seconds left in the first quarter. The Bantams led 21-0 at the half.

Trinity scored again on its first drive of the second half. Astheimer rumbled 53 yards down to the Hamilton 1, but was injured on the play, left the game and didn't return. After two penalties pushed the Bantams back 10 yards, Drusbosky found Galligan in the right corner of the end zone for an 11-yard touchdown. The PAT was no good after a bad snap and Trinity led 27-0.

The Bantams got the ball back after Sherry intercepted Wilson at Trinity's 20. The Bantams rushed for 61 yards on their 8-play scoring drive that covered 73 yards. Appah-Sampong had 46 of those yards, including 2 yards for the touchdown with 4:03 left in the third.

Trinity was the beneficiary of another short field early in the fourth quarter after Haynes intercepted Wilson at the Hamilton 32 and returned it to the 30. Appah-Sampong carried three times for the first 27 yards, and Jennings rushed up the middle for a 3-yard touchdown on a quarterback draw with 9:02 left. Whitman's PAT made the score 41-0.

The Bantams scored 21 points off Hamilton turnovers. Trinity leads the all-time series 32-11-1, and has defeated the Continentals 16 straight times.

Hamilton hosts Bowdoin College in NESCAC action on Saturday, Oct. 16. The Bantams return home to face Tufts on Saturday as well.