Football loses NESCAC game at Trinity
---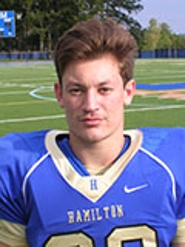 Trinity College scored the first 28 points and the Bantams coasted to a 48-13 NESCAC win against the Hamilton College Continentals at Trinity's Jessee/Miller Field on Oct. 5.

Box Score

Seven players scored one touchdown each for the Bantams, who remained undefeated at 3-0. Trinity gained 271 yards on the ground and racked up a total of 478 yards of offense. The Bantams have won 12 straight games dating back to 2011 and 49 in a row at home.

Evan Bunker ran for 106 yards and a score on just 14 carries for the Bantams. Michael Budness caught five passes for 78 yards and one TD. Four players threw at least pass for Trinity. Henry Foye was 6 of 9 for 91 yards with two touchdowns, and Sonny Puzzo was 6 of 7 for 104 yards and two more scores.

Casey Tanner was credited with seven tackles and returned an interception 18 yards for a TD for the Bantams. Paul McCarthy also picked off a pass.

Hamilton's Rico Gonzalez '16 ran for a career-high 127 yards on 32 carries and scored one rushing and one receiving touchdown. Chase Rosenberg '17 was 16 of 25 passing for 158 yards with two interceptions. Joe Jensen '15 led the receivers with four catches for 57 yards.

Cade Larabee '16 led the Continentals' defense with a game-high 10 tackles, including two for a loss. John Phelan '16 added seven stops and Rob Miles '16 forced a fumble.

Trinity grabbed a 7-0 lead with 8:29 left in the first quarter on a 17-yard pass from Foye to A.J. Jones and an extra-point by Ben Rosenblatt. Hamilton answered by marching from its 25-yard line to the Bantams' 13, but a pass by Rosenberg went off his receiver's hands and into McCarthy's for an interception.

With 11:10 to go in the second quarter, Puzzo found Budness for a 21-yard TD pass and the Bantams were up 14-0. Bunker exploded for a 68-yard run to the end zone on Trinity's next possession and it was 21-0 with 9:03 left in the second. Tanner's pick six with 3:47 remaining made it a 28-0 advantage.

Hamilton (0-3) got on the scoreboard with 1:45 left in the half on Gonzalez's second touchdown run in as many games. Gonzalez capped a five-play, 68-yard drive with his 6-yard TD run, but the Continentals missed the extra point and it was 28-6. Rosenberg's 43-yard pass to Pat Donadio '15 was the drive's big play.

The Bantams reached the end zone one more time before the break. Nick Gaynor caught a 14-yard TD pass from Puzzo with just 17 seconds left, and Trinity enjoyed a 35-6 cushion at the end of the second quarter.

The Bantams scored on their first possession of the second half. Adrian Johnson caught a 39-yard TD pass from Foye with 13:20 remaining in the third quarter that made it 41-6. Chudi Iregbulem scored on a 12-yard run on Trinity's next series for a 48-6 advantage with 10:53 left in the third.

Rosenberg completed the scoring with a 7-yard TD toss to Gonzalez with 5:28 to go in the fourth quarter. Gonzalez's reception ended a 15-play drive that covered 70 yards and chewed up nearly seven minutes off the clock. Pat Donahoe '16 added the PAT.

Hamilton gained 303 yards of offense and had the ball for more than 32 minutes. The Bantams were 5 of 12 on third-down conversions and converted all three of its attempts on fourth down.

The Continentals travel to Bowdoin College for another NESCAC game on Saturday, Oct. 12, at noon.