Football loses season finale at Bates
---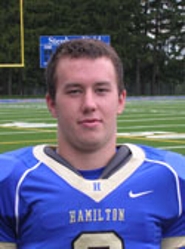 Bates College defeated Hamilton College 28-18 in the New England Small College Athletic Conference season finale for both teams at Bates' Garcelon Field on Nov. 13.

It's the Bobcats' sixth win over the Continentals in their past seven meetings. Hamilton (1-7 overall) would have finished the season with two wins for the fifth straight year with a victory on Saturday. The Continentals were undone by a blocked punt and six turnovers, including five in the second half.

Bates (2-6) took the lead for good early in the second quarter, and used a stifling and opportunistic defense to keep the lead the rest of the way. Hamilton outgained Bates in total offense, 265 to 179, and accumulated 20 first downs to only nine for Bates.

Kevin Helm had a career-high 18 tackles (14 solo), including 2.5 tackles for a loss, to spearhead a Bates defense that limited Hamilton to negative rushing yardage as a team until its final possession. The Continentals finished with 20 yards on the ground on 37 attempts. Six Bates players sacked Hamilton quarterback Jordan Eck '13 six times. First-year safety Andrew Kukesh recovered a Hamilton fumble and picked off two passes, finishing the season with a team-high six interceptions.

Both teams scored their final touchdowns on fumble recoveries in the end zone. Jared Kochenash '13 recovered a misplayed punt return deep in the Bates end zone after several players touched the ball as it traveled back from around the Bates 15-yard line. The score closed the gap to 21-18 with 1:00 left in the second quarter.

Bates returned the favor with 3:43 left in the third quarter, when a fumble by Hamilton's Eck at his own 10 was pursued and jumped on in the end zone by linebacker Will Taft. The play, combined with rookie kicker Charlie Donahue's fourth extra-point, was the only score of the second half.

The first big play came with 10:45 left in the first quarter. Hamilton concluded its second three-and-out of the game by punting from its own 25. But the attempt by George Taylor '11 was smothered by Bates' Matt Place, and Joe Drinkwater recovered the ball for the Bobcats at the Hamilton 1. A false start backed up Bates to the 6, but Patrick George ran it in from there through the left side of the offensive line, and Charlie Donahue made his first career extra point for a 7-0 lead.

On the ensuing kickoff, Hamilton running back James Stanell '14 burst up the middle and found nothing but open space ahead for an 80-yard touchdown return. The point-after attempt failed, however, and allowed Bates to keep the lead at 7-6.

Landrey Mack '11 and Mike MacDonald '13 sacked Bates quarterback Trevor Smith on consecutive plays to force the Bobcats to turn the ball over on downs, and Hamilton got its first and only lead on its next possession. With 3:28 left in the first quarter, Eck threw a perfect lead to Mark Snickenberger '11 near the left pylon, and Snickenberger waltzed into the end zone untouched. Eck's two-point pass attempt failed, keeping the score at 12-7.

Early in the second quarter, Bates junior QB Ryan Katon made his first appearance in the game as the Bobcats took over at their own 37 with 13:06 left in the half. On Katon's first snap, he lofted a pass to 6-foot-7 receiver John Squires along the left sideline. Squires leaped and caught the ball, staggered and impressively stayed on his feet, leaving a fallen defender behind him as he streaked into the end zone for a 63-yard scoring connection that made it 14-12 with 12:56 left.

Kukesh picked off Eck two Hamilton possessions later, and set up Bates at its own 43 with 6:09 left in the quarter. Smith used his legs to rush five times for 22 yards on the ensuing drive. From Hamilton's 21, Smith threw a swing pass to Teddy Downs who was wide open in the flat, and Downs scampered into the end zone for a 21-12 lead.

Hamilton was able to close the gap before the half was over thanks to the botched punt return. Taylor's 48-yard punt landed inside the Bates 20. The ball took some funny bounces and was touched by players on both teams as it skidded backward into Bates' end zone, where Kochenash finally fell on it for a touchdown. Another failed two-point pass by Eck sent the teams into intermission with Bates ahead 21-18.

Hamilton held Bates without a first down for the entire second half, and just four yards in the third quarter, but couldn't make up any ground. While Bates avoided turning the ball over until the closing minutes, Hamilton fumbled the ball away three times and was intercepted twice in the second half, which gave Bates an average starting field position at its own 45. Meanwhile, some exceptional punting by Bates senior Gavin Segall-Abrams gave Hamilton an average starting field position at its own 18. Segall-Abrams punted 11 times for 43.3 yards per kick.

Eck finished 24 of 39 for 245 yards with one touchdown and three interceptions. Scott Kleinklaus '11 caught nine passes for 83 yards, while Snickenberger had seven catches for a career-high 106 yards. Stanell rushed 20 times for 44 yards.

MacDonald had a team-high nine tackles for Hamilton (7 solo), including one of the Continentals' five sacks. Jim Forrey '13 had seven tackles (6 solo), including two sacks and three tackles for a loss. Forrey led the team this year with seven sacks and 14 tackles for a loss. Kochenash recorded his first career interception in addition to his fumble recovery for a touchdown.

Downs helped lead the Bates offense with four catches for 48 yards, and Squires added three catches for 79 yards. George rushed for a team-high 28 yards on 11 attempts.