Football player a preseason All-America pick
---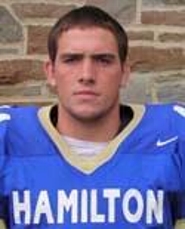 The Hamilton College football team's defensive tackle Burke St. John '11 (Chappaqua, N.Y./Deerfield Academy [Mass.]) has been selected a 2010 preseason NCAA Division III All-American by the D3 Senior Classic committee.
St. John was placed on the North Region's first team. He made the D3football.com East Region all-region third team and the New England Small College Athletic Conference (NESCAC) all-conference second team in 2009. St. John tied for seventh in the NESCAC with six sacks, and led the conference with 15 tackles for a loss. He finished the year with a total of 51 tackles and forced two fumbles.
The Continentals ranked fifth in the NESCAC in rushing defense with 83.9 yards allowed per game on the ground. Hamilton tied for third with 24 sacks. The Continentals ended the season with a record of 2-6.