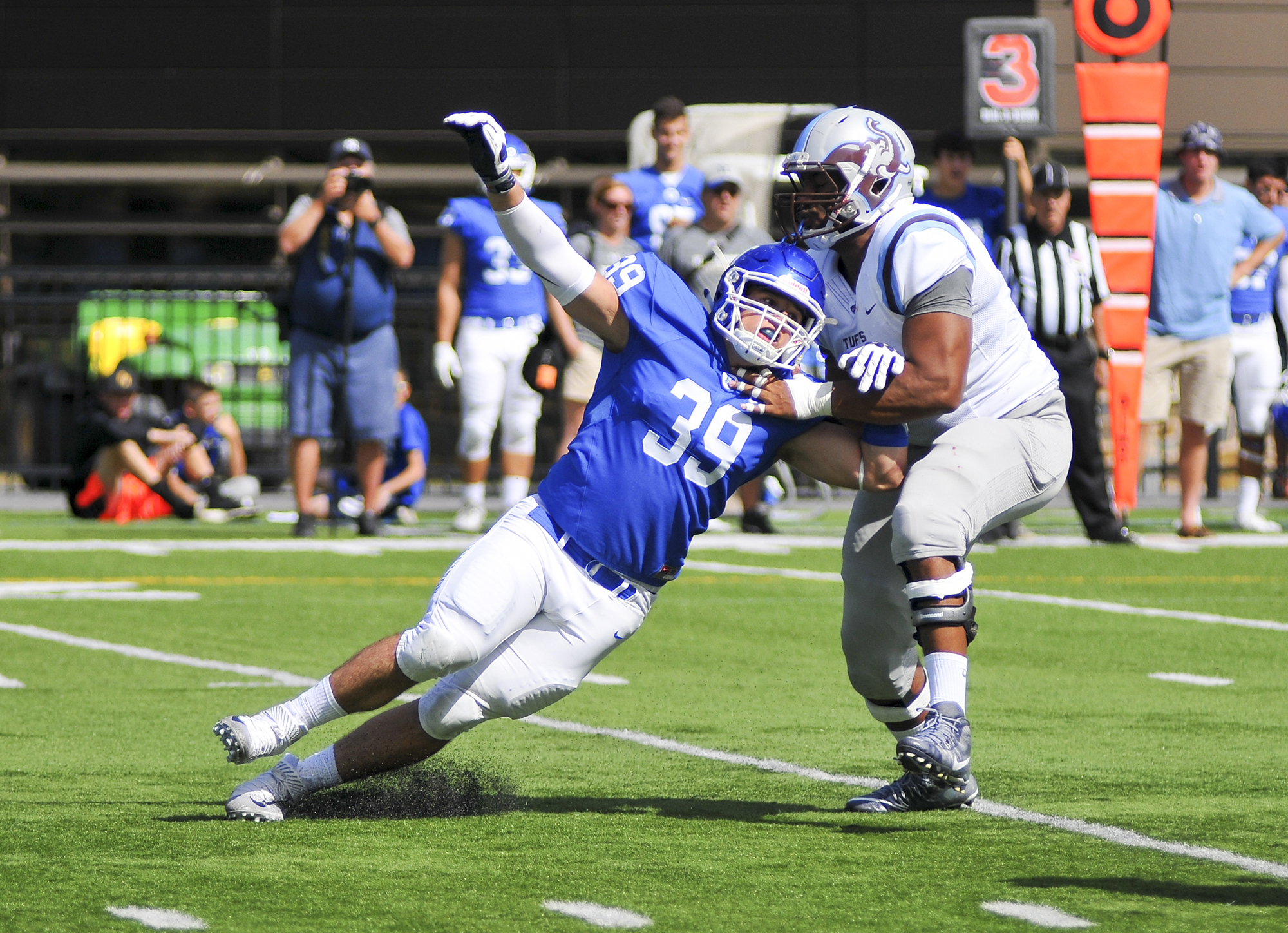 Colby College's Gabe Harrington threw for one touchdown and ran for another, and the Mules held on for a 24-19 NESCAC win against the Hamilton College Continentals at Hamilton's Steuben Field on Saturday afternoon.

Box Score

Colby's victory was its first this season as the Mules improved to 1-4 overall and in the conference. Colby held a 17-0 lead midway through the third quarter and then withstood 19 points in 11 minutes by the Continentals.

Harrington was 8 of 12 passing for 116 yards and ran for 34 more. Jabari Hurdle-Price led all players with 103 yards rushing as the Mules finished with 176 yards on the ground on 54 carries. Hurdle-Price also caught a team-high three passes for 28 yards. Seven Colby players caught at least one pass.

Ryan Neville led the Mules' defense with three tackles for loss. Ryan Ruiz recorded a sack and Will Caffey broke up five passes. Colby allowed just 73 rushing yards.

For Hamilton (0-5, 0-5), Charles Ensley '17 caught six passes for 153 yards and a touchdown. Pat Donahoe '16 added five catches for 69 yards and another score. Ensley is third in the NESCAC with 92.6 receiving yards per game and Donahoe is fourth with 84.4 per game.

Cole Freeman '18 was 17 of 42 passing for 256 yards and two touchdowns in his first start for the Continentals. Jason Nastovski '18 led Hamilton with 33 rushing yards and scored his second touchdown in as many games.

Brent Lobien '17 and Matt Glebus '17 were credited with a game-high 10 tackles apiece for the Continentals. Lobien and Nick Sobczyk '17 picked up one sack each, Tyler Hudson '19 forced a fumble and Jimmy Giattino '17 intercepted a pass in the fourth quarter. Giattino's pick was the second of his Hamilton career.

The Mules' first scoring drive opened with six straight running plays by Hurdle-Price that gained a total of 21 yards. Harrington then completed a 9-yard pass to Hurdle-Price for a first down and a 26-yard strike to Mbasa Mayikana for another first down. Harrington finished the drive with a 10-yard run off right tackle into the end zone off a draw play with 6:22 left in the first quarter.

Colby scored again on their next drive after a 10-yard punt return by Carl Lipani gave the Mules great field position at their own 47. A 33-yard pass from Christian Sparacio to Sebastian Ferrell put Colby in field-goal range at the Hamilton 23. Four plays later, John Baron's kick from 34 yards out just made it over the crossbar for a 10-0 lead with 1:12 to go in the first. The Mules had the ball for more than 10 minutes in the first quarter.

The best chance either team had at putting points on the board in the second quarter was a 27-yard field goal attempt by the Continentals' Erik Fyrer '19 that was blocked. The blocked kick concluded a 12-play, 81-yard drive that took five minutes off the clock and was aided by a pair of 15-yard penalties on Colby.

The Mules grabbed a 17-0 advantage on their first drive of the third quarter. Harrington kicked off the drive with a 23-yard run and later found Alex Kramer for a 20-yard pass to the Hamilton 13. Two plays later, Lipani ran 7 yards off left tackle, broke several tackles and dove into the end zone with 9:28 remaining in the third.

Three plays later, the Continentals were on the scoreboard. Freeman passed 12 yards to Donahoe on first down but Hamilton moved back five yards after a delay of game penalty. On 1st-and-15 from the Continental 41, Freeman heaved the ball about 50 yards, Ensley ran under it and sprinted untouched into the end zone for a career-long 59-yard touchdown reception. Fyrer's PAT made the score 17-7 with 8:06 left in the third.

Colby scored on its next drive, which started at the Mules' 40. Harrington hooked up with Mark Snyder for a 16-yard touchdown on a wide receiver screen that Snyder caught at the 15 and ran up the middle into the end zone. Baron made the extra point and Colby led 24-7 with 4:18 to go. The big play earlier in the drive was a 17-yard pass from Harrington to Braden Wilson on 3rd-and-2.

Hamilton pulled within 24-13 on its next drive with 1:02 remaining when Nastovski bowled into the end zone off left tackle from 2 yards out. Freeman was 2-for-2 on third down during the drive for 14 and 51 yards to Ensley. The 51-yard pass put the Continentals at the Mules' 2-yard line.

After a Colby three-and-out, Hamilton scored another touchdown on its third straight possession. The Continentals started the drive at their own 41 and three plays later, Freeman found Donahoe for a 43-yard gain to the Mules' 4. On 3rd-and-goal from the 5, Donahoe caught a pass over the middle from Freeman for a touchdown and pulled Hamilton within 24-19 with 12:12 left in the fourth quarter. A pass attempt for the two-point conversion fell incomplete.

Colby proceeded to run more than seven minutes off the clock on its next drive, which ended with Giattino's interception on fourth down at his own 10 with 4:59 to go. The Continentals turned the ball over on downs at their own 20 but a 20-yard field goal attempt by Baron was wide right and Hamilton had another chance.

The Continentals drove 37 yards in eight plays but on 4th-and-10 with less than a minute remaining, a pass from Freeman to Ensley came up 6 yards short of a first down, and the Mules ran out the final 22 seconds.

Colby, which won its eighth straight game in the series against Hamilton, finished with 330 total yards. The Continentals ended up with 329.

Hamilton travels to Williams College on Saturday, Oct. 31, for a 1:30 p.m. start. The Mules host Bates College on Saturday at 1.