Football tripped up at Middlebury
---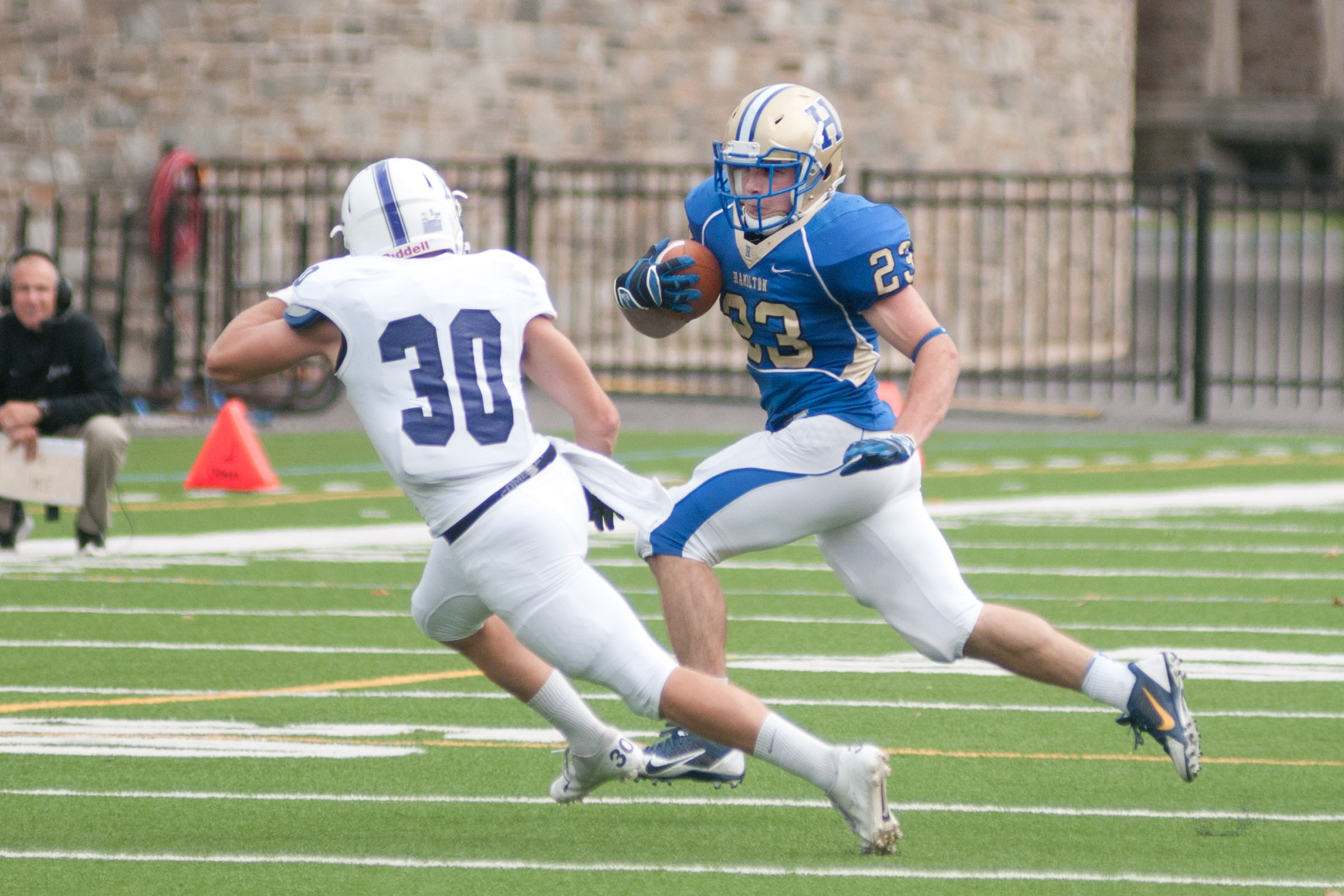 Middlebury College's McCallum Foote threw for 332 yards and five touchdowns and the Panthers went on to a 40-13 NESCAC win against the Hamilton College Continentals on Middlebury's Youngman Field at Alumni Stadium on Nov. 2.

Box Score

The Panthers (6-1 NESCAC) scored the first 34 points en route to their fourth straight win. Middlebury took less than 2 minutes, 30 seconds to reach the end zone on all of its five scoring drives in the first half.

Hamilton (0-7) was held to 13 first downs and 237 yards of offense. The Continentals go for their first win of 2013 at home against Bates College in the season finale on Saturday, Nov. 9, at noon.

The game also marked the 34th meeting of the "Old Rocking Chair Classic" with Middlebury retaining the chair for the 18th straight year. The Panthers have won 26 of the 34 games in the history of the Classic.

Foote completed 25 of 29 passes and didn't throw an interception. William Sadik-Khan was his favorite target with eight catches for 124 yards and three touchdowns. Tim Patricia led the defense with 12 tackles, including a sack, and an interception. Matthew Benedict added 11 stops and Jake Clapp recorded a pair of sacks and forced a fumble.

James Stanell '14 rushed for a season-high 142 yards and a touchdown for Hamilton. Stanell moved into fourth place on the program's all-time list with 1,986 career rushing yards. Chase Rosenberg '17 was 13 of 21 passing for 102 yards with two interceptions.

On defense, Andrew Austin '14 was credited with a team-high seven stops, including 1.5 tackles for a loss. John Phelan '16 made six solo tackles and Darren Fuller '14 and Charlie Bueneman '14 shared a sack. The Continentals also blocked two extra-point tries.

Middlebury got things going on its second possession with a 70-yard drive on seven plays for a 6-0 lead after a blocked extra point. Grant Luna was Foote's top target on the drive with three receptions for 49 yards. Following a 16-yard strike to tight end Sadik-Khan, Foote found running back Ryan Hislop for a 5-yard touchdown pass.

Middlebury's Addison Pierce picked off a pass on Hamilton's ensuing drive, and an 8-yard return left the Panthers with the ball on the 1. Hislop scored his second TD of the day on the next play for a 13-0 lead.

After Middlebury forced a punt, Foote hit Brendan Rankowitz twice, including a 42-yard strike as the Panthers marched down the field. Foote found Sadik-Khan streaking across the end zone for a 13-yard touchdown that put the Panthers ahead 20-0 early in the second quarter.

The Continentals went three-and-out and left Middlebury the ball at their own 48. Two receptions by Matthew Minno, including a 29-yard touchdown catch, gave the Panthers a 27-0 advantage. The defense held once again and Middlebury increased its lead to 34-0 as Foote connected with Sadik-Khan from 25 yards out with 5:49 left in the half.

Hamilton got on the board on its next possession with an 11-play drive that covered 48 yards. Stanell rushed for 25 yards on the drive, along with an 18-yard connection from Rosenberg to Patrick Donahoe '16. Rosenberg earned the touchdown on a quarterback draw from 6 yards out with 37 seconds left in the half.

Middlebury opened the second half with a seven-play, 74-yard scoring drive to make it 40-6. Foote found Sadik-Khan three times on the drive for 53 yards, including a 22-yard TD pass over the middle.

The Continentals answered with a 78-yard drive that ended with a 4-yard rush into the end zone by Stanell. A 31-yard gain by Stanell and a 16-yard strike from Rosenberg to Pat Donadio '15 were the big plays on the drive, and Hamilton pulled within 40-13 with 6:54 remaining in the third quarter. The Continentals deepest penetration into Panthers' territory the rest of the afternoon was the Middlebury 39.