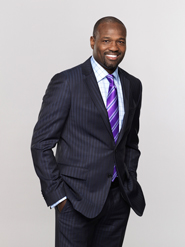 Former Major League Baseball (MLB) All-Star and Emmy Award-winning broadcaster Harold Reynolds will serve as moderator at the Hamilton College Great Names event featuring New York Yankees captain and shortstop Derek Jeter, on Wednesday, Dec. 10, at 7:30 p.m., in the Margaret Bundy Scott Field House. Jeter will participate in a question-and-answer format interview as the next guest in Hamilton's Sacerdote Great Names Series.
Ticket information for the event will be announced on Oct. 1 on the Great Names website. Also on Oct. 1, schools and organizations with 20-50 people traveling together who wish to attend, may enter the large group lottery for tickets at the Great Names website. Reservations will not be accepted by phone.
Moderator Harold Reynolds had a 12-year career as a Major League Baseball player, spending 10 seasons with the Seattle Mariners and a year each with the Baltimore Orioles and Los Angeles Angels. As a Mariner, Reynolds was a two-time American League All-Star, a three-time Gold Glove second baseman and led the American League in steals in 1987. He is currently among the Mariners' career leaders in 10 offensive categories.
Off the field, Reynolds is an Emmy Award-winning broadcaster who has covered every aspect of baseball from Little League to the pros since 1996. He is the lead studio analyst for MLB Network, providing nightly commentary on all Major League games and coverage for special events such as the Major League Draft, the All-Star Game and World Series.
Starting in the 2014 season, Reynolds began calling premier regular season games for FOX and the major events such as the MLB All-Star Game and the World Series. During his broadcasting career, he has consistently rated as one of the most popular personalities in sports television.
A noted humanitarian, Reynolds is dedicated to community service and committed to improving the lives of youth. He was honored as President George Bush Sr.'s 195th Point of Light, becoming the first athlete to receive such recognition. In addition, Reynolds is the recipient of the Roberto Clemente Award and the Martin Luther King Jr. Humanitarian Award.
Reynolds is the majority owner of HR4 LLC, a minority-owned entity developed for the purposes of creating a combination of affordable and quality equipment for youngsters, providing opportunities for under-served youngsters through the sport of baseball and using his platform to promote baseball to today's youth.