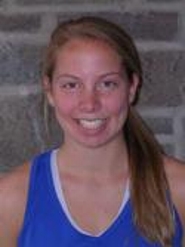 Lauren Sokol '12, a former women's lacrosse All-American at Hamilton College, has been named an assistant women's lacrosse coach at Virginia's Bridgewater College on June 6.

Sokol was one of four defenders named to the 2012 Intercollegiate Women's Lacrosse Coaches Association (IWLCA) All-America second team in May. She is the sixth two-time All-American in Hamilton women's lacrosse history. Sokol was a first team All-American in 2010 after she helped lead Hamilton to the NCAA title game.

"I'm so excited to bring Lauren onto our staff," Bridgewater head coach Kim Lowry said. Lowry was an assistant coach at Hamilton prior to taking over Bridgewater's program. "Having coached her for two years, there is no one I would rather have on the sidelines with me as we look to take our program to new heights in the Old Dominion Athletic Conference."

Sokol was a 2012 NESCAC all-conference first team honoree, and was a member of the 2012 NESCAC spring all-academic team. She was an all-region selection for the Empire Region in 2010 and 2012, and was a 2010 ECAC Division III Upstate all-star.

"Lauren will be a great addition to the Bridgewater coaching staff," Hamilton head coach Patty Kloidt said. "Her passion for lacrosse, coupled with her desire to lead and empower others, will enhance the student-athlete experience already established by Kim Lowry.

"Kim and Lauren's familiarity with each other through their time spent at Hamilton instantly provides a harmony that is imperative in a coaching staff. I adore and believe in both of them and I am proud they are a part of Division III lacrosse. Our profession is that much stronger with the addition of Lauren, and I credit coach Lowry for recognizing her potential."

In May, Sokol received the College's Milton H. Jannone Award. The award is presented annually to a student-athlete who is recognized by her peers and coaches for her outstanding athleticism, leadership and academic accomplisment. Sokol received a bachelor's degree in english with a minor in art history.