Four athletes honored by Liberty League
---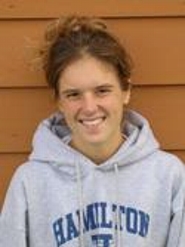 Four Hamilton College athletes were honored by the Liberty League on Oct. 26 when the league selected its weekly award winners.
Bennett Weinerman '11 (West Hartford, Conn./William Hall HS) was named offensive performer of the week and Marcus Dormanen '10 (Hopkins, Minn./Breck School) was a co-defensive performer of the week pick for men's soccer. Alex Rimmer '13 (Rye, N.Y./Rye HS) was a co-offensive performer of the week selection for women's soccer, and Courtney DeMaria '10 (Littleton, Mass./Groton School) shared defensive performer of the week honors for field hockey.
Weinerman was credited with an assist on the game-winning goals in both of Hamilton's league contests on the road last week. He took the corner kick that was headed in by Jon Sanford '11 just 1 minute, 12 seconds into the second sudden-victory overtime period of a 2-1 victory at Skidmore College on Oct. 25. Weinerman leads the team with three assists.
Dormanen scored the lone goal in a 1-0 win at Union College on Oct. 24, and led a defense that allowed just one goal in two league victories on the road last week. Hamilton (9-3-1 overall, 5-1-0 Liberty) has won seven straight games for the first time since 2003. The Continentals are in first place in the league standings with one game remaining. Hamilton travels to Hobart College -- currently in third place -- on Saturday, Oct. 31.
Rimmer scored four goals as the women's soccer team went 2-0-1 in three games last week. She notched all three goals in a 3-1 league win against Union College on Oct. 24, and added another tally in a 2-2 tie at SUNY Oneonta on Oct. 20. Oneonta is ranked No. 1 in the East region by the NCAA. Rimmer leads the league with 12 goals and 25 points.
DeMaria saved nine of the 11 shots she faced in two league wins on the road last week. She posted her third shutout this year in a 2-0 win at Vassar College on Oct. 24. She is tied for second in the league in shutouts and is ranked fourth with a 1.74 goals against average. Hamilton (9-3 overall, 6-1 Liberty) clinched a share of its first league regular season title.