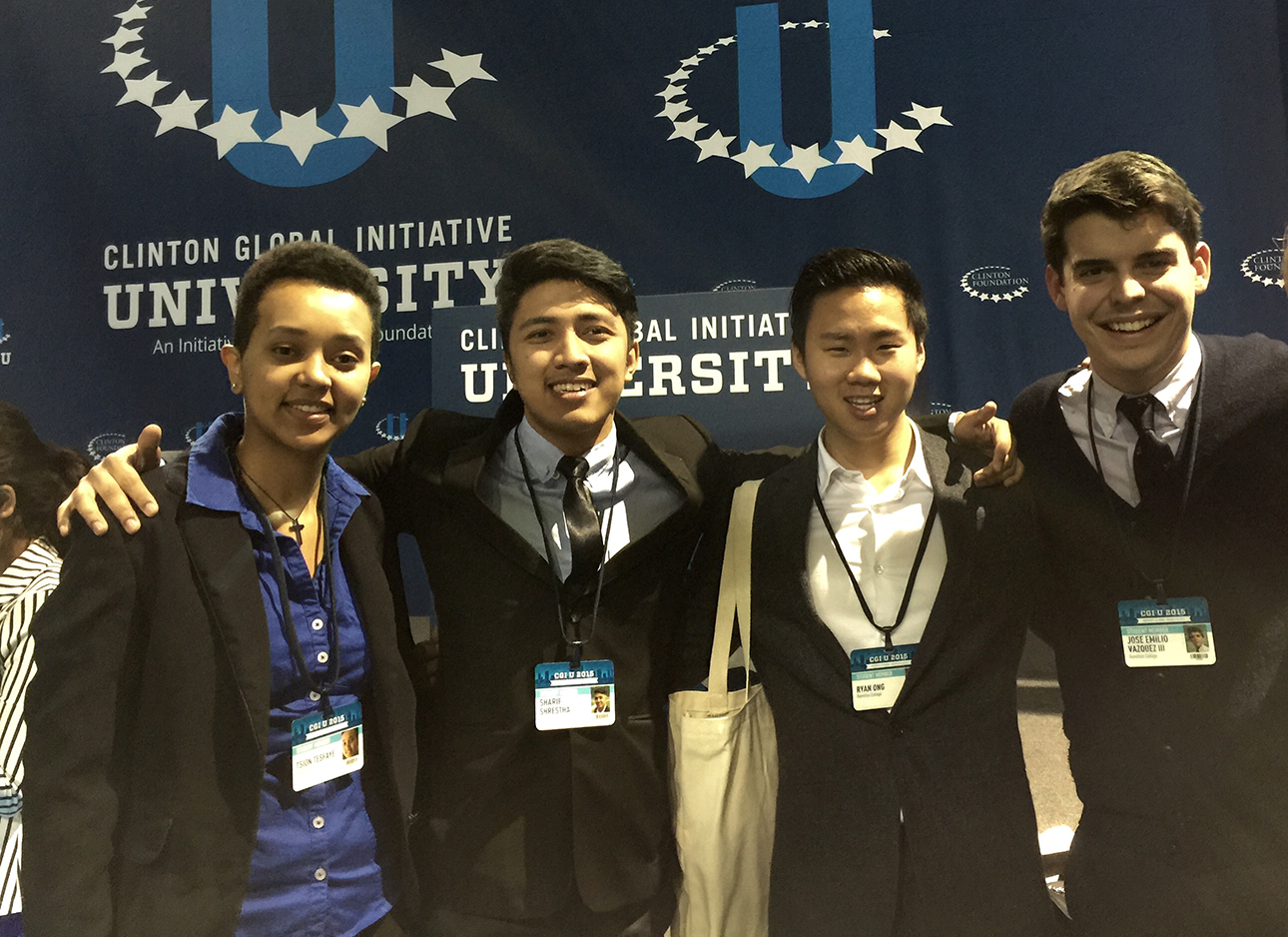 Four Hamilton students who have created meaningful projects to address global problems through their work with the Levitt Public Affairs Center had the opportunity to share their ideas on a much larger stage when they were chosen to attend the Clinton Global Initiative University (CGI U) in Miami on March 6-8. Ryan Ong '16, Sharif Shrestha '17, Tsion Tesfaye '16 and Jose Vazquez '15 - all of whom are Levitt Social Innovation Fellows or Public Service Interns – were among 1000 college and university students selected to take part in the prestigious conference.
Building on the successful model of the Clinton Global Initiative, which brings together world leaders to take action on global challenges, President Clinton launched the Clinton Global Initiative University in 2007 to engage the next generation of leaders on college campuses around the world.
Nepal native Sharif Shrestha '17 presented his commitment to action project titled "Herbs Cooperative for Economic Empowerment" (HCEE) which aims to alleviate poverty and promote gender equality in the village of Mude in Nepal. Shrestha's project was one of 23 selected for funding. He received a $4000 grant at CGIU and as a Resolution Project Fellow will receive ongoing mentoring/guidance from two Resolution Project staff members.
HCEE plans to capitalize on the abundance of rare medicinal herbs in the village by constructing an herb plantation site and selling the harvest from the site to partner firms as raw resource. The business model includes a workers cooperative that encourages investment by the villagers affiliated with the project to ensure shared ownership. Revenue generated from this project will be reinvested in the village through increase in income and re-allocation of the profit in development of key infrastructures primarily education.
Shrestha is working on HCEE with a friend from the College of Atlantic, Maine, who grew up in Mude. Derek Jones, the Irma M. and Robert D. Morris Professor of Economics, an expert in the area of worker cooperatives, has been providing guidance to Shrestha on that aspect of the project.
Shrestha called CGI U "a wonderful platform for changemaker undergraduates to represent their ventures and, through various resources and networking opportunities, find ways to develop and expand their venture."
Discussing the funding he was awarded for his project he remarked, "With this fellowship I will also get access to the limitless resources and mentorship that Resolution has to offer to bring my project to fruition. I am very excited what the future holds."
Tsion Tesfaye was invited to represent her Commitment to Action project Youth for Ethiopia on stage at CGI U. Donna Shalala president of the University of Miami and President Bill Clinton's Secretary of Health and Human Services gave a lengthy and complimentary introduction to Tesfaye and her project at one of the workshops. Tesfaye was one of 26 students highlighted in person in this way, from among more than 1000 participants. Her project was awarded a certificate of recognition.
Youth for Ethiopia came to fruition this past summer as a four-week leadership and social innovation training program. Comprising 15 students from the Ethio Parents School in Addis Ababa, the project consists of three courses: leadership, social innovation, and SAT training, taught by Tesfaye and three of her former teachers. "Our goal is to nurture exemplary Ethiopian leaders," Tesfaye explained, "…to make the best of every single student that we have."
In talking about her experience at CGI U, Tesfaye noted, "Bill Clinton made a very crucial point that resonated with me. He said that the best finding of the century is the discovery that humans are 99.9% identical. He acknowledged that there are some people who exaggerate the .01% difference," she said, and "he then urged participants to work together based on the 99.9% similarity and shape the future of the planet. This note brightened the rest of the weekend and brought a sense of collaboration among the participants."
Ryan Ong '16 and Jose Vazquez '15 also were selected to attend CGI U in recognition of their Commitment to Action project, "Disclosure Group."
Disclosure Group is committed to increase awareness for and provide support to LGBT homeless youth in New York City. It will activate and educate its supporters through its clothing apparel and social media platforms. To support LGBT homeless youth, the proceeds from Disclosure Group's apparel will go to the Ali Forney Center, the largest and most comprehensive homeless LGBTQ youth center.
Ong commented, "Attending CGI U has been such an incredible experience. I met so many inspirational peers all passionate about tackling problems in the world. One thing I will take away from this conference" he said, "is that all of our issues that we are trying to address are linked together one way or another. Moreover, we must collectively work together to make progress."
Vazquez called CGI U "a once-in-a-lifetime opportunity to meet students from over 80 countries and 250 colleges and universities in one place … Every student had a commitment to action and were passionate about their projects for social good." Vazquez said he was especially affected by something Bill Clinton said in his closing session: "'Just because we cannot do everything, doesn't mean we can't do something.'" Vazquez remarked, "That quote has stuck me and has reinvigorated my efforts in working on my commitment to action concerning LGBTQ homeless youth with Ryan Ong."
Julio Videras, professor of economics and director of the Levitt Center, remarked, "At the Levitt Center, we are proud of being part of the network of support that enables Hamilton students to understand pressing social issues and bridge the gap between theory and practice, and we are delighted of how far and thoughtfully these students have progressed in their commitments toward positive social change."
The Renyi Leadership Fund provided the travel money and the Levitt Center provided the implementation and programming funds for the students.
Editor's note: In 2014 Hamilton College was designated a Changemaker Campus by Ashoka U, the higher education program of Ashoka, an international organization that promotes social innovation to solve society's most persistent social issues. The designation recognizes Hamilton for being a leader in social innovation education among an exclusive network of only 30 colleges and universities worldwide.