Four Retiring Professors Honored at Faculty Meeting
---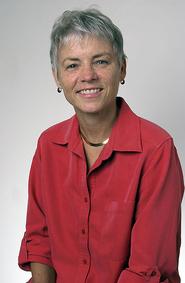 As is the custom at Hamilton, the Dean of Faculty recognizes retiring faculty and hosts a reception in their honor at the last faculty meeting of the academic year. On May 16, Dean of Faculty Patrick Reynolds honored four professors retiring this year: Professor of Anthropology Charlotte Beck; Jim Bradfield, the Elias W. Leavenworth Professor of Economics; Professor of Government Ted Eismeier; and Jay Williams '54, the Walcott-Bartlett Professor of Religious Studies. Following are the tributes Reynolds read.

Charlotte Beck
Charlotte Beck received her B.A. from Auburn University, in Alabama, in 1975, and master's in 1978 and Ph.D. in 1984 from the University of Washington, Seattle, Washington. She began as an assistant professor at Hamilton in 1985, and was named the Leonard C. Ferguson Professor of Archaeology in 2000. She has taught numerous different courses over the years, including this past semester, "1491 and Beyond," which was very successful. She won the Lang Prize for excellence in teaching in 2001. She has more than 40 scholarly articles, the latest last year in the prestigious journal Evolution, and many more contributions of various types to the field besides, and a National Science Foundation grant holder.
One colleague writes: "Charlotte and I became friends almost as soon as I arrived at Hamilton in 1988. She was always there for me, in good times or difficult, my friend and confidante… When they were still in KJ, in the 1990s and early 2000s, their lab was next door to my office and I often heard laughter from Charlotte and the students in her advanced lab class through the door connecting the two rooms—sometimes I'd teasingly pound on the door and they'd pound back! …I loved having them there, and how I missed Charlotte when they moved to the Science Center."
Another writes: "I like Charlotte's laughter and email. Charlotte laughs a lot, and her laughter makes a room merrier. I also like how she writes her emails….Unlike [other] emails, Charlotte almost always starts her email with 'Dear…' I like her care and politeness and hope more people follow her elegant style."
Another: "Charlotte was one of the warmest and most supportive colleagues I had when I came to Hamilton. Over the next several years, I came to see that Charlotte's generosity and guidance helped many students through their undergraduate years, and had a major part to play in applications to graduate school… I will miss Charlotte's professional influence on the students, but I will also miss her warm energy. Thank you for all that you have contributed to the major, to the department, to the college, and to the discipline, Charlotte. I plan to make good on my threat to visit you in Santa Fe."
Finally, another colleague wrote: "Charlotte will probably kill me for sharing this, but my first introduction to her was through reading Beck and Jones publications for my undergraduate senior thesis research in 1998. Her work was influential to me then and it continues to be today. Charlotte is a nationally and internationally known and well-respected archaeologist; she is regarded as an expert in the study of the peopling of the New World and one of the pioneers of the field of evolutionary archaeology…Her students have gone on to work in the private sector, attend graduate programs, and become professors. We will all miss Charlotte here at Hamilton; she has been a wonderful mentor, colleague and friend." 

Jim Bradfield
Jim came to Hamilton in 1976, having completed his bachelor's, master's and Ph.D. at the University of Rochester. He received tenure in 1980, and promoted to professor in 1988. He served as associate dean of Students for two terms, 1988-91, and 1994-98. He also served as acting director of the Writing Center from 1993-94. In addition to several papers and current projects on market economics, Jim has two well-received textbooks Mathematical Economics (with Jeffery Baldani and Robert Turner, Harcourt Brace, 1996) in its second edition (2005), and Introduction to the Economics of Financial Markets, Oxford University Press, 2007, which was translated into Korean in 2009. He has been appointed to the Elias W. Leavenworth endowed professorship since 2001. As many of you know, in recent years Jim has been deeply involved with the Alexander Hamilton Institute, of which he is a charter fellow.
One colleague writes: "It's a credit to my senior colleagues—Sidney, Derek, and Jim—that I have always felt welcomed and respected within the department. I'd especially like to highlight three ways in which Jim has been a role model to me:
1) Jim cares deeply about teaching and about his students; he has been a resource and a guide for teaching-related issues;
2) Jim models how to disagree in a respectful and principled way; and
3) Jim understands the importance of family. He was incredibly supportive as we raised our children and also as my father was aging… I feel fortunate to be part of the economics department."
Another writes: "I have great respect for Jim Bradfield. During my time at Hamilton, I have come to know Jim as a teacher of the highest rank, a generous colleague, and a caring friend. Jim and his wife Alice have the distinction of being one of the first babysitters for our son … On one particular occasion, when Jim was getting a bit tired as he was reading a story, [our son] exclaimed, 'Uncle Jim (as our kids call him), you're losing focus.' Jim may have lost focus on that one occasion in reading a story to our 2-year-old son, but over the course of his long and illustrious career at Hamilton, he certainly has never lost focus in his role as a liberal arts faculty member: passionately teaching students how to think, write, and communicate effectively; graciously serving the department and the college in numerous capacities; and investing his time and energy in the broader lives of students. Jim has made a profound impact on countless students, faculty and staff in the Hamilton community. I wish him all the best as he begins to shift some of his 'focus' into other things."

Ted Eismeier
Ted joined the Government Department in 1978, having received his BA from Dartmouth and Ph.D. from Yale. He has held the James L. Ferguson chair, from 1991-96, and was awarded the Class of 1962 Outstanding Teaching Award. He has served Hamilton in a number of capacities, of course as department chair, but also as faculty chair, assistant dean of Faculty, coordinator of the writing program, director of the Levitt Center, and director of both Washington and New York programs. He has taught and published numerous articles and two books on American politics. Like Jim Bradfield, in recent years Ted has been deeply involved with the Alexander Hamilton Institute, where he is a senior fellow.
One colleague writes: "Ted has always been a dedicated and amiable colleague. Even though we know we often disagree on issues, he has been tirelessly dedicated to his students. I have known many students, from a wide array of backgrounds and beliefs, who have found him to be an inspiring and supportive professor. He leaves behind a legacy of a veritable army of former students working in all fields, from academia to many different positions in politics to law. He has also been an exceptional leader of our program in Washington in recent years, not just teaching there but connecting our students to a wide array of professionals of all stripes in the city, many of them his former students."
Another: "Ted was a valued colleague. He left a lasting legacy by providing a model of outstanding teaching and concern for students. Ted was extraordinarily popular among the students. And, even though he had strong political convictions he was very supportive of colleagues in the department who disagreed with him."
Yet another writes: "He is the archetypical 'dearly beloved' professor—students can't praise him enough when they're graduating and can't thank him enough years and decades later, when they often seek him out on our Hill or on Capitol Hill just to tell him how much his teaching and mentoring has meant to them."
Finally, another colleague writes: "When teaching his Hudson River course, Ted assigned my book, The Working Landscape, had me come and talk to his students about it. As a visiting professor trying to make his way in the academic world, Ted's endorsement of my work meant an enormous amount to me. It gave me a real sense of confidence as a new scholar. I cannot even begin to express how much I appreciated Ted's support." 

Jay Williams '54
Jay Williams, Walcott-Bartlett Professor of Religious Studies, graduated from Hamilton in 1954; he received his Master's of Divinity from Union Theological Seminary in 1957 and is Ph.D. from Columbia in 1964. He received tenure in 1967 (associate professor, 1970, professor 1974, when named to the chair). He has taught over 30 different courses, and published almost as many books and twice as many articles, on topics of Biblical studies, Buddhism, Chinese religion, and western religious history. His letter of appointment, from President Robert McEwen, is dated June 2, 1960, hired as an instructor in the field of philosophy and religion, an attached note states that "one quarter of his time [will be spent] teaching logic." I was surprised to read President McEwen write: "No formal contracts are in use at the College but I should be glad to have a letter confirming your acceptance for the files… participation in the Social Security program is compulsory." Jay duly obliged with a response in the affirmative six days later. And McEwen further wrote that faculty housing was available, "assigned by rank and seniority…and you will, of course, be coming in at the bottom of the totem pole."
One colleague writes: "When I think about Jay Williams my mind turns especially to a very important quality that he has brought to the department. It is one of the things for which I honor him most: it is his tremendous openness to the world. Jay is interested in and curious about people of all kinds and in all places. He has a marvelous wide-ranging curiosity that leads him on journeys of discovery, intellectual and cultural. His knowledge is vast and his joy in discovery a treasure. We and our students have had in Jay… a great model of the joy and expansiveness of learning and discovery."
Another writes: "For 50+ years, Jay Williams has been conducting his own activist movement. I call it 'Occupy Hamilton!' I first met Professor Williams four years ago, when he occupied not one but two offices in Molly Root, offices that spilled out into the surrounding hallways with photographs from global travels adorning the walls. He joked that the one office was his 'Western traditions' office while the other his 'Eastern traditions' office, together forming an expansive niche of scholarly endeavor. And I suspect his brain works like those offices, lined with the wisdom literatures of the world, with plenty of objects standing around symbolizing the human struggles to create meaning in the cosmos. Professor Williams has mined the philosophical, literary, and religious traditions, and made all of this accessible to the young men and women who come through Hamilton. His act of occupation became his vocation. His influences have reached far and wide as his students go on to all manner of work, finding their own occupations in meaningful ways."
Finally, another colleague writes: "As I think about Jay and how I appreciate him after working with him for 29 years, three memories stand out. When [we] moved here for a term position in 1983… Jay was there and worked all afternoon moving us in. Jay was chair of religious studies for many years. During that time [we] enjoyed many evenings at departmental dinners in Jay's home with Hermine. Finally, when you want to consult with Jay, you come to know he has regular habits. I remember many discussions of a variety of topics in the weight room at 3 in the afternoon. I think you can still find him there most afternoons. I remember in addition to Jay's scholarship and teaching, his long contribution to the life of Hamilton. He is one of those faculty for whom Hamilton is a life, not a profession."
"I think it safe to say you are at the top of the totem pole now, Jay!"
Reynolds presented gifts to Beck, Bradfield and Williams. Eismeier was unable to attend the event.