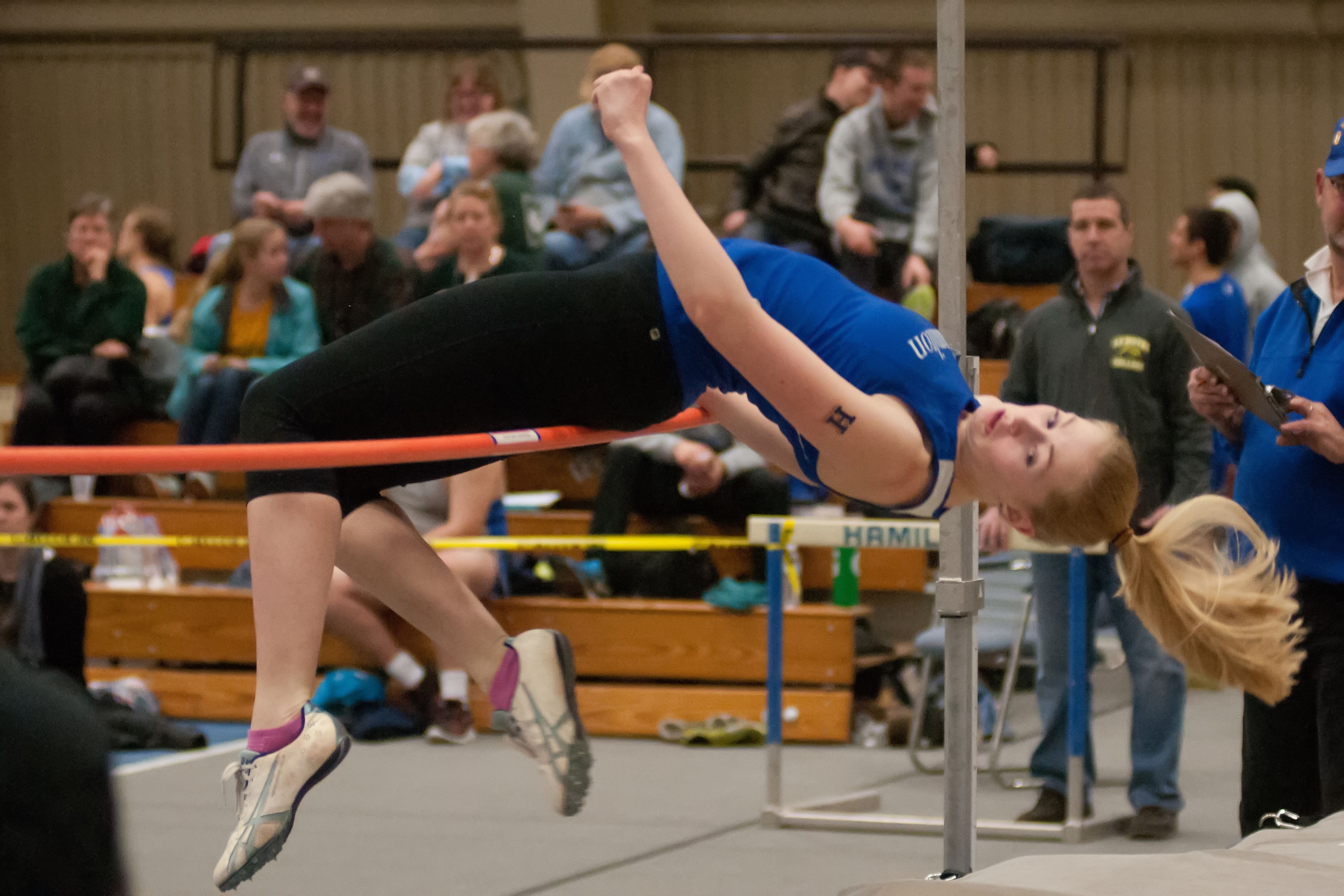 The Hamilton College women's track & field team hosted the annual Hamilton Invitational Saturday at Margaret Bundy Scott Field House. No team scores were kept at the event, where the Continentals posted four first-place finishes.

Complete results

Leading the way was Emily Hull '18, who won the 20-pound weight throw with a personal-best mark of 13.22 meters (43 feet, 4.5 inches). Sara Lewis '16 cleared 2.90 meters (9 feet, 6.25 inches) to claim the title in the pole vault.

On the track, Hanna Jerome '18 was the winner in the 1,000-meter run, finishing in 3:09.92. Mary Lundin '19 took first in the 800-meter run in 2:27.57.

Elizabeth Perry '18, the runner-up in the 1,000-meter run, finished in 3:21.46, with teammates Grace Berg '16 (3:32.17) and Molly Clark '19 (3:39.44) placing fourth and fifth, respectively.

Michelle Fish '17 was second in the mile (5:18.80) with Caitlin Anthony '18 sixth in 5:39.10. Alex Reading '16 took second in the 3,000-meter run (11:38.13). In the 800-meter run, Michaela Guinee '18 was fifth in 2:42.47 and Lilly Pieper '18 placed sixth in 2:46.25.

Three Continentals recorded top-five finishes in the high jump: Abby Homer '16 (third), Vishwa Rasania '17 (fourth) and Leigh Gelotte '19 (fifth) each cleared 1.45 meters (4 feet, 9.25 inches).

Emily Steates '19 placed sixth in the long jump (4.46 meters/14 feet, 7.75 inches) and Rasania was eighth with a mark of 4.36 meters (14 feet, 3.75 inches).

Hamilton's 1,600-meter relay quartet was second with Jerome, Lundin, Fish and Guinee posting a time of 4:27.50.

The Continentals travel to Brockport Saturday for SUNY Brockport's Golden Eagle Invitational.