Fulbright and Luce Fellows Travel to Inner Mongolia on ACC Program
---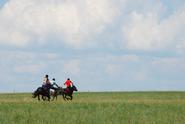 Andrew Rogan '10, Cristina Garafola '11, and 13 students from colleges across the country participated this summer in the Hamilton-run Associated Colleges in China (ACC) Field Studies Program. The program aims to provide American undergraduates with opportunities to interact with rural children and educators in China in order to further advance their cultural understanding and improve their language proficiency.

The 15 attendees were selected from an extremely competitive pool and began preparing their lesson plans and formal presentations to rural Chinese educators in March. After three weeks studying China's education system in Beijing, students began their nearly month-long field studies in northeastern China in early July.

Field Studies (or FS) participants each taught more than 350 children in two Northeastern schools. Class topics included history, theater, environmental studies and art, among others. Derek Pham, a senior at Georgetown University, said "I would recommend the program to anyone who not only is interested in China, its places and people, but who is also truly willing to tackle the experience with an open mind, take challenges, and contemplate the seldom done."

Students also traveled to the industrial city of Harbin to participate in the conference arranged for rural educators by an American-based NGO called Education and Science Society. Each student gave a 25- minute presentation based on his or her education experiences in the United States. Topics ranged from the importance of sports education and one-on-one tutoring programs to talks about effective teaching strategies and promoting healthy lifestyles in children. FS participants also acted as translators for American and Singaporean conference presenters, translating on the spot during the conference's opening ceremony and helping rural teachers interact with the international guests.

The Field Studies program is funded by grants from the Department of Education's Fulbright-Hays GPA Program and the Henry Luce Foundation.

Andrew Rogan is a graduate of Kent School and Cristina Garafola is a graduate of Sparta High School.