Garrett and Doran to Discuss Genetic Engineering in Imagining America Event
---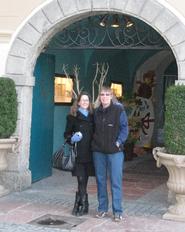 Professor of Biology Jinnie Garrett and Associate Professor of Philosophy Katheryn Doran will present a talk titled "Building Better People?: Genetic Engineering and the Roots of Evil" on Wednesday, Nov. 4, at 7:30 p.m. at The Other Side in Utica. This is the third event in the 2009-2010 Imagining America collaboration between Hamilton College and The Other Side.

Should we engineer our future children to be smarter, faster, or prettier? Who will decide? The speakers will discuss these and other questions involving genetic engineering . . . and the future of humanity.

The Other Side is located at 2011 Genesee Street in Utica, across from the Uptown Theater and next to the Cafe Domenico. Plenty of parking is available, and admission is free.