Gold and Rubino Visit Roman Tunisia, NEH Seminar
---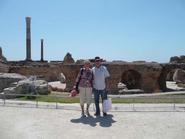 Edward North Professor of Classics Barbara Gold and Winslow Professor of Classics Carl Rubino traveled to Tunisia (North Africa) in July where they visited an NEH seminar on "Augustine and Perpetua: Autobiography in its Roman Context."

Gold gave a talk to the seminar on "The Role of Roman Women in the Empire: Perpetua's Obligations to Gender and Class." This is a part of the book she is writing on Saint Perpetua (for Oxford University Press). Perpetua was martyred in the amphitheater in Carthage (Roman North Africa) in 203 C.E. because she converted to Christianity.

Gold and Rubino also spent two weeks going to the spectacular Roman ruins that are in Tunisia, including many that are connected to Perpetua, who was from the area around Carthage. Despite the temperatures, which reached 127 degrees, they enjoyed the trip and returned with a much deeper understanding of the early Christian period in North Africa.