Goldberg Discusses Japan's Gardens
---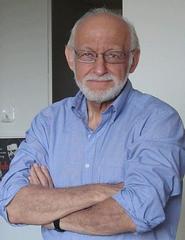 Associate Professor of Art History Stephen J. Goldberg presented a talk on "The Gardens of Japan" to the Rotary Club of Sherrill, N.Y. The meeting was held April 5 at Vernon Downs Hotel.
Goldberg spoke about the important part nature and landscape traditionally play in the layout of Japan's private residences and Buddhist monasteries and their buildings and showed how a conscious effort was made to integrate the natural environment into the design. Goldberg said this was especially true in the shinden-zukuri style of formal aristocratic architecture, which was not merely open, but integrated and interpenetrated with the garden. He said the garden was a place of meditative immersion in the world.
Among the Japanese gardens discussed were the Hoodo (Phoenix Hall) of the Byodo-in at Uji, Kinkakuji (Temple of the Golden Pavilion), Ginkakuji (Temple of the Silver Pavilion), the Moss Garden at Saihoji, the karesansui tei'an (Dry Landscape Garden) in the Daisenin in Daitokuji, and the Imperial Villas of Katsura Rikyu and Shugakuin Rikyu in Kyoto.