Goldberg Presents Invited Lecture in Shanghai
---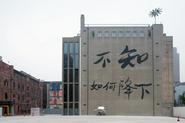 At the invitation of the Rockbund Art Museum, Stephen J. Goldberg presented a lecture and conducted a public interview on July 20, at the museum located in the Bund area of Shanghai, China.
The lecture, titled "Journeys to the West and the East: The Art of Liu Dan and André Kneib," introduced two contemporary artists through a discussion of the personal cultural journeys each embarked upon in search of an artistic voice of their own. The work of Chinese painter Liu Dan and French calligrapher André Kneib is currently on display in From Gesture to Language: Trans-forming Practices of Art Expression. Following the lecture, the artists spoke about their works.
Goldberg invited Xiaohan Du '12 to serve as translator. Xiaohan recently completed her first year in the doctoral program in Chinese art history at Columbia University, where she is on a five-year scholarship.