Grace Liew '12 Examines Paradigm Shift in Malaysian Politics
---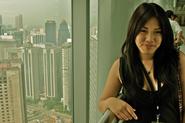 A few years ago, Grace Liew '12 would have told you she had little interest in the politics of her native country. So it may come as a surprise that Grace spent her summer pursuing an Emerson Grant to investigate a paradigm shift in Malaysian politics. It was the trend of government itself that inspired Grace's interest. In the 2008 elections, the leading party lost its majority, a new step for a nation that has not traditionally seen significant opposition in government. Liew's research sought to examine the reasons for this development and to track its progress, aided by Professor of Philosophy Rick Werner.
Created in 1997, the Emerson Foundation Grant program was designed to provide students with significant opportunities to work collaboratively with faculty members, researching an area of interest. The recipients, covering a range of topics, are exploring fieldwork, laboratory and library research, and the development of teaching materials. The students will make public presentations of their research throughout the academic year.
Liew's research began by comparing the past governance of Malaysia to newly emerging trends in politics. Although the government has historically practiced wide censorship, the emergence of the Internet has created new channel of expression that is much harder to stifle. After familiarizing herself with the structure of government in Malaysia, Liew was able to more comprehensively pursue her research. She held interviews with editors of independent news sites, authors of blogs, and formerly detained politicians. She sampled the opinions of her friends and peers during social situations, giving her another unique perspective of the social environment surrounding contemporary politics.
This social environment helped to further Liew's research. Because the government restricts the content of the mainstream media, a portion of political activism in Malaysia circumvents the mainstream and uses other methods. Word-of-mouth is the classic way to spread the word, but this trend in Malaysia relies heavily on text messages and blogs. "Two summers ago I probably wouldn't have been receiving texts that invite me to a rally to protest the unfair detention of a certain person, and it was very empowering to be part of a channel that is leading towards change," says Liew.
Malaysia turned 51 years old this year, and Liew feels that her research is an important component of her nation's maturity. Says Liew, "I see think tanks and civil society organizations stepping up to the demands of being an assertive force in pushing their causes, and I definitely feel the growing need for a more rounded check and balances system." Examining the changes that occur within a developing political system and interrogating the consequences of those changes should, she believes, strengthen the political integrity of the system.
Liew hopes to major in philosophy and world politics. She spent the beginning of her summer traveling in India. In her opinion, traveling to new places and meeting new people is vital to understanding and tolerance across different points of view. Her research experience this summer not only examined the changing political atmosphere in a newer nation, but also made her feel strongly attached to Malaysia. Liew says the Emerson project opened her eyes to "the potential that Malaysia has, as well as my role and power in helping it towards the ideal path of sound governance."
Liew is a graduate of KDU College.