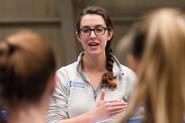 The Hamilton College volleyball team competed in the University of Rochester Invitational over the weekend. The Continentals dropped matches to Oswego (3-2) and Geneseo (3-0) Friday night and lost to Houghton (3-1) and St. John Fisher (3-0) Saturday.

Houghton box score | St. John Fisher box score

Jamie Granskie '16 was named to the all-tournament team after totaling 70 digs in the four matches, including a career-best 22 against Geneseo. Her totals against Houghton (20) and St. John Fisher (16) also topped her previous best.

Jessica Weston '17 finished with 30 kills and five blocks over the weekend and Claire Kitz '19 recorded 25 kills at the tournament. She notched a personal-best 11 in the Houghton match.

Kyndal Burdin '18 led Hamilton with 55 assists and Meghan Wilkinson '19 added 53. Burdin also totaled 24 digs. Erin Donahue '18 compiled 28 digs and 16 kills.

The Continentals are back in action Friday, hosting SUNY Cortland in a 6 p.m. match.