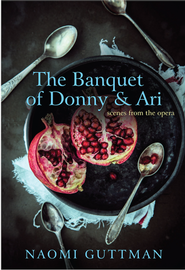 Professor of English and Creative Writing Naomi Guttman is the author of a new book of poetry, The Banquet of Donny & Ari: Scenes from the Opera, published this month by Brick Books.
A description from the publisher's website reads: "Under the sugar maples of Montreal, family life is given mythic dimensions in this sweeping novella-in-verse. If Dionysus and Ariadne lived in Montreal in the late twentieth century, would he serve veal stuffed with apples and paté de fois gras? Coach nubile young singers in a performance of L'Orfeo? Would Ariadne's thread be fashioned into tapestries of furious elegy in the face of environmental catastrophe? Would their marriage survive?
"Amid a fictional marriage in a state of malaise and a real world on the edge of environmental disaster, Guttman lays open moments of vexation and tenderness, of grief, guilt, betrayal and love. Sounding through these moments are the harpsichord and the loom, drawing Donny and Ari, their sons Stephan and Onno, their corgi and their parrot, into the long weave of myth, art and human history."
An excerpt from the book, "Rehearsals: Mastery": Donny envies her the order of her threads, neatness of the loom, palettes of skeins piled high. Compare this to the score he must unwind, ingest, to play by heart. The orchestra accompanying the voices is Orfeo's lyre.
Guttman is also the author of Reasons for Winter (1991) which won the A.M. Klein Award for Poetry in Quebec, and Wet Apples, White Blood (2007), which won the Adirondack Literary Award for Poetry.