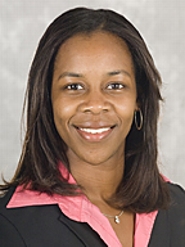 Angel Mason, assistant athletic director at California Institute of Technology for the past two years, has been appointed Hamilton College's associate athletic director.
Some of Mason's primary responsibilities at Caltech included budget oversight, department transportation and travel needs, intercollegiate contest scheduling and contracts, home intercollegiate event management operations, all NCAA compliance matters, educational programming for student-athletes and coaches, and supervisor for the Student-Athlete Advisory Committee. She replaces Kerri Fagan, who left Hamilton in June to accept a position with the Northeast-10 Conference.
"I am very excited to join the Hamilton College community," Mason said. "My past experiences have allowed me a great opportunity to continue to grow and develop as an athletic administrator."
Prior to her time at Caltech, Mason was an assistant athletic director at Deerfield High School in suburban Chicago. She was an assistant women's basketball coach and physical education professor at her alma mater, Butler University, and was the head women's basketball coach and assistant athletic director for operations in her second stint at Vassar College. Her first job in athletic administration was communications intern with the Horizon League.
"We are excited to have Angel join our Hamilton community," Director of Athletics Jon Hind '80 said. "She brings great energy and passion to our department. Her many varied experiences as a student-athlete, assistant and head coach, and athletics administrator at both Vassar and California Institute of Technology have her poised to strengthen our intercollegiate athletics program on every level."
Mason is a member of several organizations including the National Association of Collegiate Women Athletic Administrators, National Association for Athletics Compliance, National Association of Professional Women and Minority Opportunity Athletic Association.
Mason played on the varsity women's basketball team at Division I Butler University, where she graduated with a bachelor's degree in communication studies and a minor in English. She earned her master's degree in sports management from California University of Pennsylvania. Mason is from Evanston, Ill.