Hamilton Arboretum Association Announces Spring 2013 Programs
---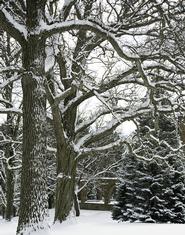 The Hamilton College Arboretum Association will present a series of free workshops in January through May on the Hamilton campus. These events are open to the public and sponsored by the College and its Arboretum Association. All will take place from 10 a.m. to noon in the Kennedy Auditorium, Taylor Science Center (GO27), unless otherwise noted. Pre-registration is requested by calling (315) 859-4657.
Jan. 19 – The Nursery Industry from Seedlings to Shade Trees
Jim Kisker of Schichtel's Nursery in Springville, N.Y., will give a presentation on the nursery industry from seedlings to shade trees. Schichtel's Nursery has 1,370 acres under cultivation and grows more than 400 varieties of shade, ornamental and evergreen trees and shrubs. Don't miss this opportunity to learn how trees and shrubs are produced and prepared for market, and about new varieties of trees and shrubs coming down the production line.
International Society of Arboriculture 2 CEUs (continuing education credits)
Feb. 2 – A Winter Walk Through the Hamilton College Arboretum
Have you ever strolled through the woods in winter and wondered how to identify trees and shrubs without their foliage or flowers? Arboretum Director Terry Hawkridge will lead a campus tree walk and explain how to identify dormant trees and shrubs. He will begin with a brief discussion of tree identification in the Taylor Science Center and will then lead a tree walk for about an hour on campus. This will be a flat ground tour on College paths. Please prepare for the elements and dress warmly!
Feb. 16 – Observing Nature
Ernest H. Williams is the William R. Kenan Professor of Biology at Hamilton and author of The Nature Handbook: A Guide to Observing the Great Outdoors. When we look in the natural world around us, many intriguing patterns can be noted. For this talk Williams will show photos of a number of these observations, mostly from plants and their associated animals, and describe the surprising stories behind them. The middle of winter is a good time to focus on the wide array of observations in nature and understand why these patterns exist.
March 2 – Tree and Shrub Pruning Seminar
Arboretum Director Terry Hawkridge and Lead Horticulturist Dan Rouillier, both certified arborists, will lead an interactive indoor pruning lecture and clinic which will be projected to a large screen. They will prune shade, ornamental and evergreen trees, and both deciduous and evergreen shrubs.
International Society of Arboriculture 2 CEUs (continuing education credits)
March 16 – Sustainable Landscape Practices
Arboretum Director Terry Hawkridge will give a presentation on important sustainable landscape principles and practices: reduced pesticide and fertilizer usage; management of storm water; the usage of alternate products with the least impact on natural resources; landscapes that reduce heating and cooling costs; and ways to reduce the Urban Heat Island Effect.
International Society of Arboriculture 2 CEUs (continuing education credits)
April 20 – Stalking Hamilton's Trees for a Half Century
John Suplee '69, a member of the Hamilton College Arboretum Advisory Committee, is an established artist who has been painting the College's trees for almost 50 years. In this visual presentation Suplee will go beyond his paintings to share - for the first time - a generous selection of his documentary photographs and recount his recollections of Hamilton's arboreal past. Because Suplee's archive dates from his arrival in 1965, the campus elms and their loss will figure prominently in these images.