Field hockey blanks Morrisville State 8-0
---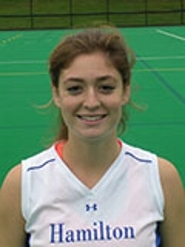 Hamilton College's Casey Brown '16 and Eva Rosencrans '17 scored two goals apiece and the Continentals rolled to an 8-0 non-conference victory against Morrisville State College at Morrisville's Drake Field on Sept. 24.

Box Score

Nine players recorded either a goal or an assist for the Continentals (2-3 overall), who outshot the winless Mustangs 37-1. Nikki Haskins '14 posted a goal and an assist, and tied Mary Lancaster '12 for fourth place on the program's all-time list with 23 career goals.

Brown scored twice in the first four minutes -- the first two goals of her Hamilton career. She tipped in a cross at the 1:42 mark and put Hamilton up 2-0 less than two minutes later when she redirected a deflection of a shot taken by Haskins. Caroline Ames '17 assisted on Brown's first goal.

Haskins put a drive from the right side past the goalkeeper at 11:39 for her second goal of 2013. Rosencrans, who leads the team with five goals, put Hamilton up 5-0 with a pair of scores 72 seconds apart midway through the first half. She scored on a scramble in front of the cage at 13:36 and converted a penalty stroke at 14:48.

Goals by Merisa Dion '17 and Emma Anderson '17 -- both off penalty corners -- gave the Continentals a 7-0 advantage at the break. Dion tipped in a drive from the top by Madison Molho '14 for her first career goal. A drive from the top taken by Sam Sherman '15 was tipped into the cage from the left post by Anderson, who now has two goals this fall.

The first goal this season by Aubrey Coon '16 -- an unassisted score with 10:49 left in the second half -- closed out the scoring. Hannah Keohane '17 made her first start in goal for Hamilton and needed to make just one save to record the shutout. The Continentals are 5-0 all-time against Morrisville (0-8), and have outscored the Mustangs 34-3.

Hamilton returns to action on Saturday, Sept. 28, with a NESCAC home game against Wesleyan University as part of Fallcoming Weekend.