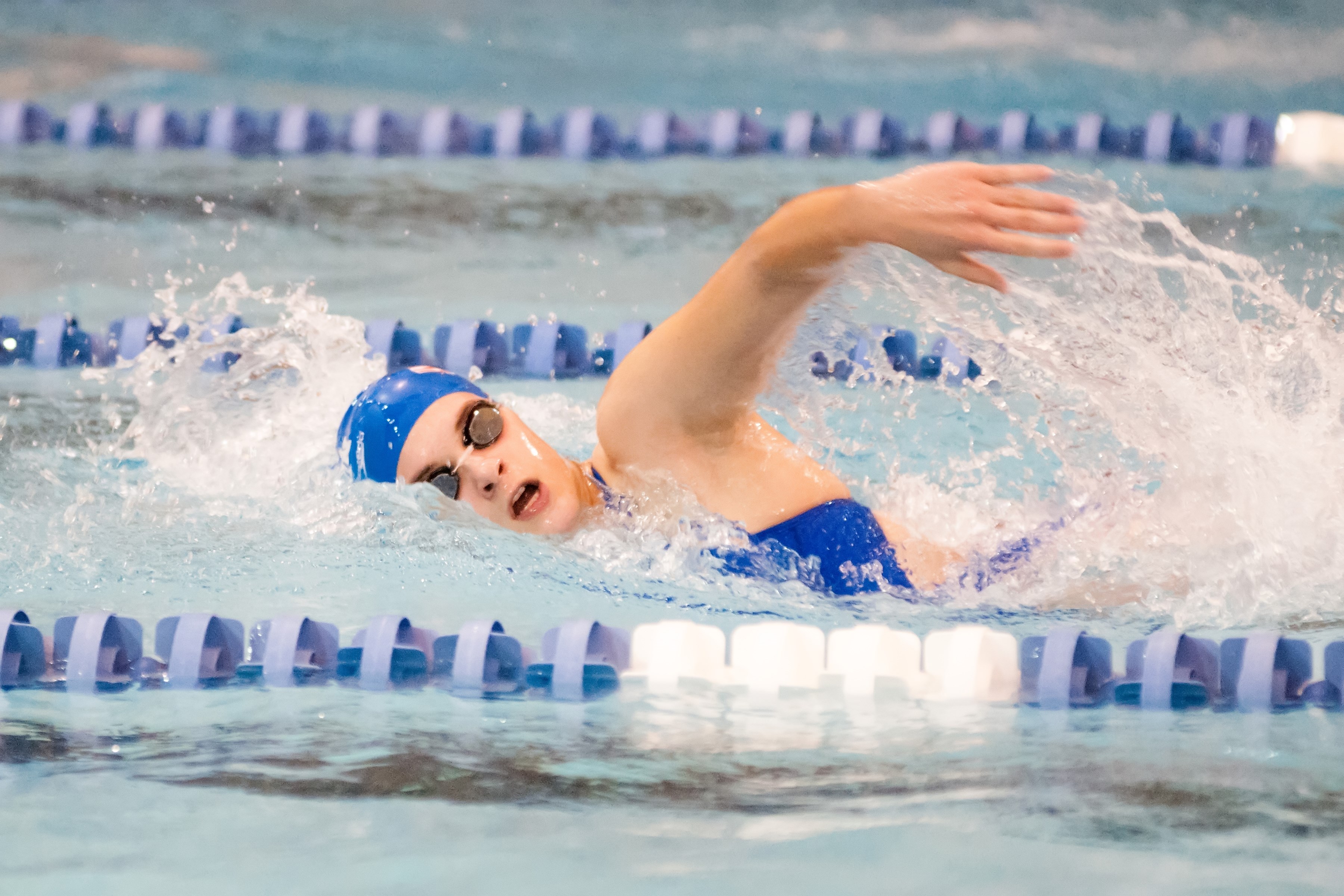 Hamilton College's Sarah Hooper '16 led the Continentals to a 178-122 dual meet victory against the Wesleyan University Cardinals at Hamilton's Bristol Pool on Sunday afternoon.

Results

Hooper finished first in the 50- and 100-yard freestyle with times of 25.02 and 54.89 seconds, respectively, and helped the Continentals (2-1 overall) to wins in the 400 medley and 400 free relays.

Emma Raynor '18, Lauren Halladay '16 and Madeleine Lepesant '19 joined Hooper on the medley relay, which posted a time of 4:09.45. The free relay featured Hooper, Lauren Klei '18, Elizabeth Barry '17 and Hannah Mooney '17, and finished with a time of 3:46.66.

Raynor captured first place in the 50 backstroke with a time of 29.45 seconds. She added runner-up finishes in the 50 free (26.30 seconds) and the 100 back (1:04.89).

Lepesant took first place in the 1,000 free with a time of 11:21.03 and was second in the 100 butterfly in 1:02.40. Halladay ended up second in the 50 breaststroke in 33.45 seconds and in the 100 breast with a time of 1:14.01.

Mooney grabbed the top spot in the 500 free with a time of 5:25.27 and landed in second place in the 200 free in 2:00.55. Klei edged Mooney for the victory in the 200 with a time of 1:59.83 and was second in the 100 free (55.93 seconds).

Jessie Halladay '18 hung tough with Lepesant before she landed in second place with a time of 11:24.19. Irina Rojas '18 recorded a runner-up finish in the 50 fly (28.24 seconds) and was third in the 100 individual medley (1:05.37).

Hamilton swept the diving events as Sarah Pickup '19 finished first in the 1-meter springboard with 196.34 points and Jackie Bussgang '19 claimed victory in the 3-meter board with 194.25 points.

The Continentals travel to the Florida Keys for their annual training trip and compete in the Founders' Invitational on Saturday, Jan. 9, at 4 p.m.