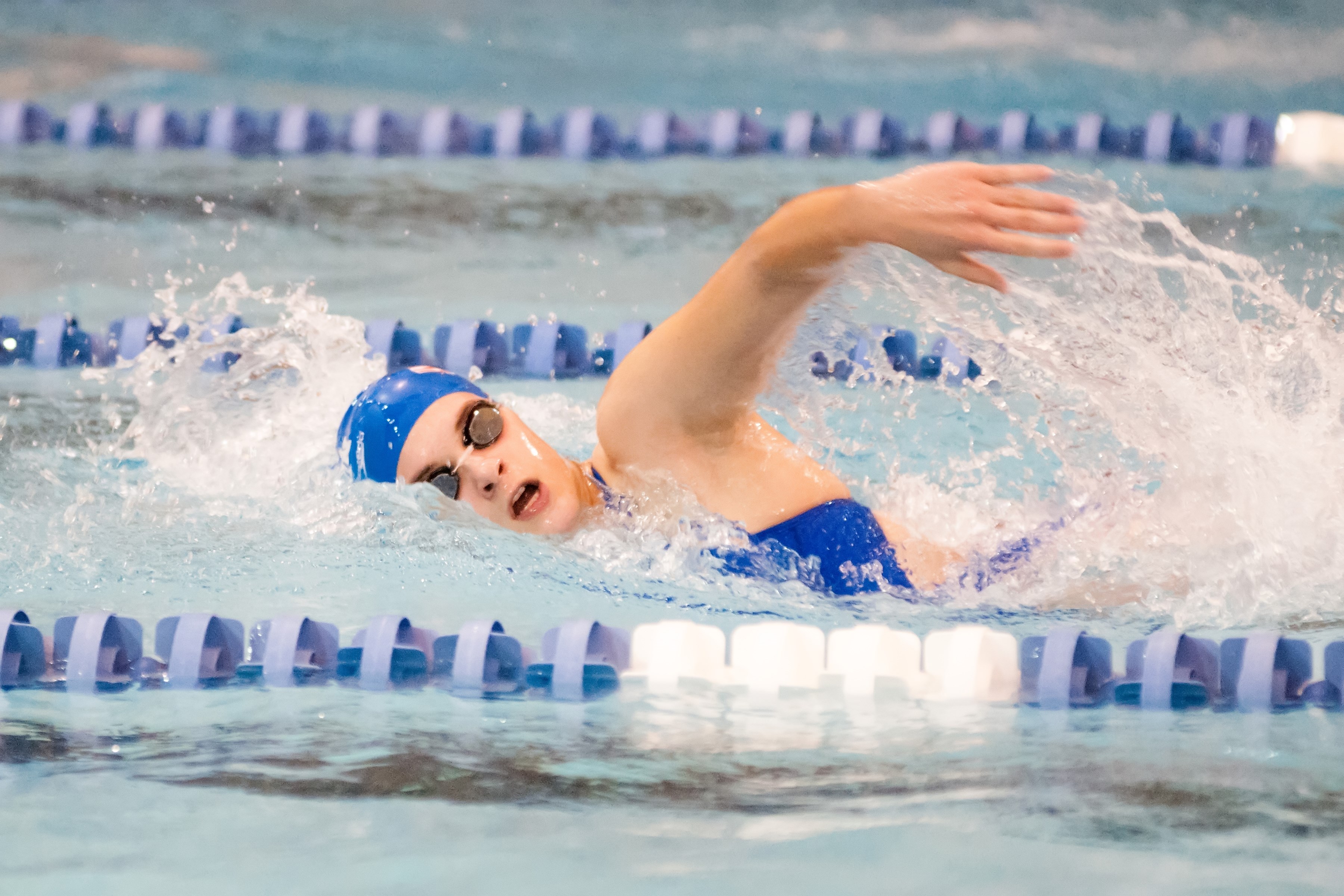 The Hamilton College women's swimming and diving team cruised to easy dual meet victories against Rochester Institute of Technology and Vassar College at Hamilton's Bristol Pool on Saturday afternoon.

Results

The Continentals (4-1 overall) defeated RIT 198-98 and posted a 183-115 win against Vassar. Hamilton swimmers finished first in 10 events, including both relays.

Sarah Hooper '16 led the Continentals to four of those event victories. Hooper captured first place in the 50-yard freestyle (25.25 seconds) and the 100 free (55.04 seconds), and anchored the 200 medley and 400 free relays.

Hooper was joined on the medley relay by Emma Raynor '18, Lauren Halladay '16 and Irina Rojas '18 as they posted a time of 1:55.17. Hooper, Lauren Klei '18, Jessie Halladay '18 and Hannah Mooney '17 recorded a time of 3:45.72 in the freestyle relay.

Klei was a winner in the 200 free relay (1:59.47) and earned runner-up finishes in the 50 free (26.22 seconds) and the 500 free (5:24.87). Mooney edged Klei for first place in the 500 free (5:22.96) and finished right behind her for second place in the 200 free (2:00.68).

Raynor touched the wall first in the 100 backstroke (1:03.76) and was second in the 200 back (2:17.54). Rojas won the 100 butterfly with a time of 1:02.95. Hamilton swept the top three places in the 200 free and Jessie Halladay was third in 2:01.27.

Madeleine Lepesant '19 took first place by nearly seven seconds in the 200 fly (2:13.53) and was runner-up in the 1,000 free (11:18.21) and the 100 fly (1:03.58). Erin Lewis '18 grabbed the top spot in the 200 breaststroke (2:36.17) and was second in the 100 breast (1:11.49).

Lauren King '16 ended up second in the 200 individual medley (2:21.15) and Sydney Dixon '18 landed in third place in the 100 fly (1:04.69) as the Continentals swept the top three spots in that event.

Hamilton is back at Bristol Pool on Wednesday, Jan. 20, for a dual meet with Skidmore College at 5 p.m.