Hamilton Choir to Perform with University Glee Club of NY at Lincoln Center
---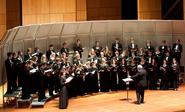 The Hamilton College Choir will perform with the University Glee Club of New York City at its 217th Members Concert on Friday, Jan. 24, at 8 p.m., in Avery Fisher Hall at Lincoln Center in New York. Hamilton's Choir will perform three songs jointly with the Glee Club: "My Lord What a Morning," "Somewhere/Tonight" ("West Side Story"), and "Ride the Chariot." The concert will be followed by an Afterglow reception on the Grand Promenade at Avery Fisher Hall.
The University Glee Club (UGC) of New York City is an all-male singing group founded in 1886. The UGC was formally organized in 1894 "to encourage male voice singing of the highest excellence." The Glee Club's repertoire covers a wide range of music including classical, Broadway, sea chanteys, spirituals and traditional college songs. There are currently 120 active singing members spanning many generations, from recent college graduates to men who have sung with the UGC for more than 50 years. Many of the singing members sang in college glee clubs and small groups. John Low Baldwin, a member of the Hamilton College music faculty and director of the College Choir in the 1950s and '60s, was conductor of the UGC for 39 years, until his death in 1999. His successor, Francisco J. Nunez, carries on the tradition of male choral singing that is John's legacy.
Under the direction of G. Roberts Kolb, professor of music and director of choral music at Hamilton since 1981, the Hamilton College choir and College Hill singers boast an uninterrupted tradition of fine choral singing that dates back for more than a century. The 60-member choir travels regularly throughout the eastern half of the United States and has undertaken five concert tours in Europe over the last 18 years. Avery Fisher Hall, with a capacity of 2,738, is home to The New York Philharmonic, America's oldest symphony orchestra.
Tickets are limited. For information on purchasing tickets, contact Tracy Rueckert in Hamilton's Office of Leadership Gifts at (800) 296-6098.