Masterworks Chorale and Orchestra to Perform
---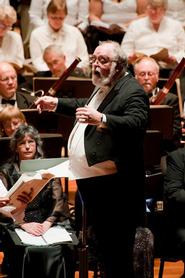 The Masterworks Chorale concludes its observation of Hamilton's bicentennial by celebrating the centennial of three choral and orchestra works from Great Britain on Tuesday, Dec. 4, at 7:30 p.m., in Wellin Hall, Schambach Center for Music and the Performing Arts.
Conducted by G. Roberts Kolb, the program will include Edward Elgar's The Music Makers and C.Hubert Parry's Ode on the Nativity, with Dawn Pierce, mezzo-soprano, and Ralph Vaughan Williams' Fantasia on Christmas Carols, with David Kolb, baritone.
The choir will be accompanied by the orchestra of the Musical Associates of Central New York.
Tickets for this performance are $8 for adults and $6 for senior citizens and students. It is free for Hamilton College students. For more information or directions to Wellin Hall, call the box office at 859-4331.