Hamilton Performing Arts Celebrates 25th Anniversary Season
---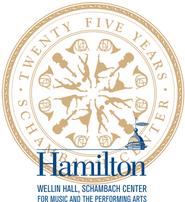 Hamilton College Performing Arts announces an exciting season of music, theater and dance to celebrate the 25th anniversary of Wellin Hall and Schambach Center for Music and the Performing Arts. All concerts will take place in Wellin Hall, Schambach Center for Music and the Performing Arts at 7:30 p.m.
The season opens with puppeteer Basil Twist and company in Dogugaeshi on Friday and Saturday, Sept. 13 and 14. In the elegant and absorbing Dogugaeshi, Twist and unseen puppeteers ingeniously manipulate a series of painted screens to create a tiny yet marvelously expansive universe. Original music composed and performed by shamisen virtuoso Yumiko Tanaka completes the evening. This performance is suitable for audiences ages 10 and up. A special set will be constructed with limited seating on stage. Reservations are strongly encouraged; please call in advance for handicap accessible seating arrangements.
The Brentano String Quartet continues the series on Saturday, Oct. 5. Established as the quartet in residence at Princeton University, Bentano has been called "Spectacular…Superbly balanced…Sublime," by The Washington Post. They recently provided the recording of Beethoven's Quartet #14 in C-sharp minor, Op. 131, for the critically acclaimed film A Late Quartet. The Hamilton program includes Mozart's Quartet in D-Major, Beethoven's Quartet in F-minor, Op. 95, and Debussy's Quartet.
Pianist André Watts presents Schambach Center's 25th Anniversary Concert on Saturday, Oct. 12. The first time superstar André Watts performed at Hamilton College, he played a rented piano in Alumni Gym. Now, some 30 years later, he returns to celebrate Schambach Center's 25th anniversary with an evening of works by Bach, Beethoven, Schumann, and Strauss.
André Watts burst upon the music world at the age of 16 when Leonard Bernstein chose him to make his debut with the New York Philharmonic in their Young People's Concerts, broadcast nationwide on CBS-TV. Only two weeks later, Bernstein asked him to substitute at the last minute for the ailing Glenn Gould in performances of Liszt's E-flat Concerto with the New York Philharmonic, thus launching his career in storybook fashion. More than 45 years later, André Watts remains one of today's most celebrated and beloved superstars.
Hamilton College joins Kronos Quartet's 40th anniversary tour for a performance on Saturday, Nov. 9 that includes some of their most influential works. Kronos has become one of the most celebrated and influential groups of our time, performing thousands of concerts worldwide, releasing more than 45 recordings of extraordinary breadth and creativity, collaborating with many of the world's most eclectic composers and performers.
Kùlú Mèlé African Dance & Drum Ensemble visits on Friday and Saturday, Nov. 15 and 16, with free dance and drumming workshops on Friday and a full performance on Saturday. Hailing from Philadephia, Kùlú Mèlé presents and preserves African drum and dance forms rooted in the cultures of the African diaspora. Its repertoire draws upon music and movement of Guinea, Ghana, Nigeria, Brazil, Haiti, Cuba and the Senegambia region, as well as African-American vernacular traditions.
Hamilton College continues to support symphonic music in Central New York with a performance by Symphoria on Wednesday, Nov. 20. Conducted by Hamilton's own Heather Buchman, Symphoria performs Beethoven's Piano Concerto No. 4, Op.56, with Sar-Shalom Strong as soloist. Also on the program are Strauss's An der schönen blauen Donau, Op. 31, and Holst's "Neptune: the Mystic" from The Planets.
The spring semester starts with modern dance and Doug Varone and Dancers presented by the Mohawk Valley Dance Partnership on Saturday, Jan.25. Since its founding in 1986, Doug Varone and Dancers has commanded attention for its expansive vision, versatility, and technical prowess. On the concert stage, in opera, theater and on the screen, Varone's kinetically thrilling dances make essential connections and mine the complexity of the human spirit. From the smallest gesture to full-throttle bursts of movement, Varone's work can take your breath away
February brings Boston Camerata with Douce Beauté: Courtly Airs of France, circa 1600, on Saturday, Feb. 15. Comprised of both musicians and singers, the Boston Camerata is America's preeminent early music ensemble. Douce Beauté: Courtly Airs of France, circa 1600 focuses on music of France at the dawn of the 17th century. The program includes songs crafted Pierre Certon and others that were performed in the royal court and then imitated in town homes and at village fairs.
Symphoria returns on Friday, Feb. 28, with conductor Matthew Kraemer and violin soloist Elmar Oliveira. The program includes Vivaldi's Le Quattro Staggioni, Op. 8, No. 1-4 (The Four Seasons), Grieg's "Last Spring" from Two Elegiac Melodies, Op. 34, and Copland's Appalachian Spring.
Jazz superstar Nnenna Freelon comes to Hamilton on Saturday, April 5. The world renowned jazz singer, composer, producer, arranger and six-time Grammy nominee Nnenna Freelon and her band perform with all seats on stage, turning Wellin Hall into an intimate jazz venue.
The Performing Arts Series concludes on Friday, April 18, with International Contemporary Ensemble (ICE). Considered to be one of the most important and effective proponents of new concert music in the United States, ICE performs new works and rarely performed works by American, and Asian composers as well as original material composed by group members. This concert will include a collaborative piece for ICE and select members of the Hamilton College Orchestra.
Seating in general admission. Individual ticket prices vary, and discounted series rates are available. For more information, call the box office at 859-4331 or visit www.hamiltonpa.org.