Hamilton to Observe Martin Luther King, Jr. Day
---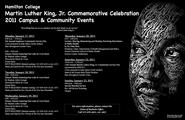 Hamilton College will commemorate Martin Luther King Jr.'s birthday with a number of campus and community events in January.
On Monday, Jan. 17, from 9 a.m. to 3:30 p.m., a group of Hamilton employees will participate in the 5th annual Employee Community Service Day at various sites around greater Utica. The college has given release time to employees who are participating.

Hamilton will present a dinner-theatre production of Our Lady of 121st Street by Stephen Adley Guirgis, on Monday, Tuesday and Wednesday, Jan. 17, 18, and 19, in the Fillius Events Barn on campus. The dinner starts at 6 p.m. and the play at 6:30 p.m. The cost is $12 for the public. Monday's performance is sold out but tickets are available for Tuesday and Wednesday. Due to limited seating, reservations are needed. To make reservations call 315-859-4331.

Our Lady, directed by Mark Cryer of Hamilton's Theatre Department, is told through a series of snapshots into the lives of a diverse cast of characters, who are all connected by their childhood memories of the late Sister Rose. When her body mysteriously disappears from the funeral home, it becomes apparent that more is coming out of the woodwork on 121st Street than those whose lives Rose influenced.
Dr. John A. Rich, professor and chair of Health Management and Policy at the Drexel University School of Public Health, will give a lecture titled "Hearing, Humanizing and Healing: Practicing Nonviolence in Public Health," on Thursday, Jan. 20, at 4:10 p.m., in the Science Center's Kennedy Auditorium.

Hamilton's 13th Annual Martin Luther King, Jr. Community Service Day will take place on Saturday, Jan. 22, from 10:30 a.m. - 5:30 p.m. Hamilton students will perform volunteer work at various sites throughout Greater Utica.
On Sunday, Jan. 23, at 4 p.m., a special worship service will be held in the Chapel.