Hamilton College's 2013 Riffle Award winners announced
---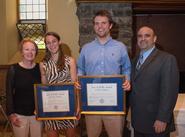 Hamilton College football player Mike MacDonald '13 (Glen Ridge, N.J./Seton Hall Preparatory School) and women's soccer player Alex Rimmer '13 (Rye, N.Y./Rye HS) received the 2013 Jack B. Riffle Awards at the College's senior varsity athlete awards dinner on May 22.

The Riffle Award has been presented annually since 1987 to the most outstanding Hamilton male and female senior athlete. Riffle graduated from Hamilton in 1950 and passed away on Dec. 13, 1986. A group of Riffle's friends and associates established a memorial fund in his name because of his deep interest in Hamilton athletics.

MacDonald is the sixth Riffle winner from the football team. He was a two-time NESCAC all-conference performer, including first team honors in 2012 and second team recognition in 2011. The linebacker finished second in program history with 301 career tackles and played in all 32 games.

In his senior year, MacDonald ranked third in the NESCAC with 82 tackles and tied for second with 50 solo tackles and two fumble recoveries. One of those fumble recoveries was in the end zone for his only career touchdown, and he was placed on the 2012 NESCAC Fall All-Sportsmanship Team.

As a junior, MacDonald was third in the NESCAC with 88 tackles, tied for sixth with 9.5 tackles for a loss and tied for ninth with four sacks. The two-time team captain led the Continentals in tackles as a sophomore with 73 stops.

Rimmer started all 63 games during her Hamilton career and is the 10th Riffle winner from the women's soccer team. She was a 2012 Division III New England Region All-Region third team selection by the National Soccer Coaches Association of America (NSCAA) and was first team all-region for the East Region in 2010. Rimmer garnered all-conference honors three times, including NESCAC second team all-conference in 2012.

Rimmer is the team's all-time leader with 37 goals and is tied for second place with 81 career points. She led the Continentals in goals and points all four years with career highs of 12 goals and 25 points in her rookie season, when she was voted Liberty League Rookie of the Year and made the Eastern College Athletic Conference (ECAC) Division III Upstate all-star team. Rimmer helped lead the team to four postseason appearances, including the second round of the 2010 NCAA Championship.

Women's lacrosse two-time all-region honoree Rachel Friedman '13 (Fairfield, Conn./Fairfield Warde HS) and men's lacrosse two-time all-conference selection Mike Fiacco '13 (Fayetteville, N.Y./Jamesville-Dewitt HS) received the Milton H. Jannone Awards. The Jannone Award is presented annually to a student-athlete who is recognized by his/her peers and coaches for his/her outstanding athleticism, leadership and academic accomplishment.

Friedman was named to three all-conference teams, three all-academic teams and was a 2010 Liberty League Co-Rookie of the Year. Her 70 goals in 2011 is the team's single-season record and she ranks third in program history with 179 career goals and 235 career points.

Fiacco received NESCAC all-conference second team honors in 2013. He also earned United States Intercollegiate Lacrosse Association Scholar All-America team status and a spot on the Division III North-South Senior Game roster this year. Fiacco is a two-time member of the NESCAC spring all-academic team.

Two-time baseball team captain Lukas Bridenbeck '13 (East Greenbush, N.Y./La Salle Institute) and softball captain Melissa Kaknis '13 (New Windsor, N.Y./Newburgh Free Academy) received the Jean-Marius Gelas Memorial Awards. The Gelas Award is presented annually to a student-athlete who has displayed outstanding development in sportsmanship, leadership, character and athletic ability during his/her college years.

Bridenbeck was a four-year varsity letter winner who played in 91 games and started 79 of them at catcher. Despite playing in just 13 games as a senior due to injury, Bridenbeck batted .286 with three doubles and 10 RBI, and helped lead the Continentals to a school record for wins in a season.

Kaknis, a member of the 2013 NESCAC Spring All-Sportsmanship Team, set career highs in runs batted in (24), home runs (3), batting average (.288), hits (32), doubles (8) and total bases (49) this year. She holds the team record for most games played in a career with 127, and started all those games at third base.

The featured guest speaker was the founder of Inner Sports, Garret Kramer '84. Kramer, who was a member of the Hamilton men's ice hockey team, provides consulting and/or crisis management services to hundreds of athletes, coaches and business leaders across a multitude of sports. Kramer often lectures on topics related to the states of mind that lead to success on and off the playing field. He is the author of the book Stillpower: Excellence with Ease in Sports and Life, and the upcoming book The Path of No Resistance: Why Overcoming is Simpler than You Think.