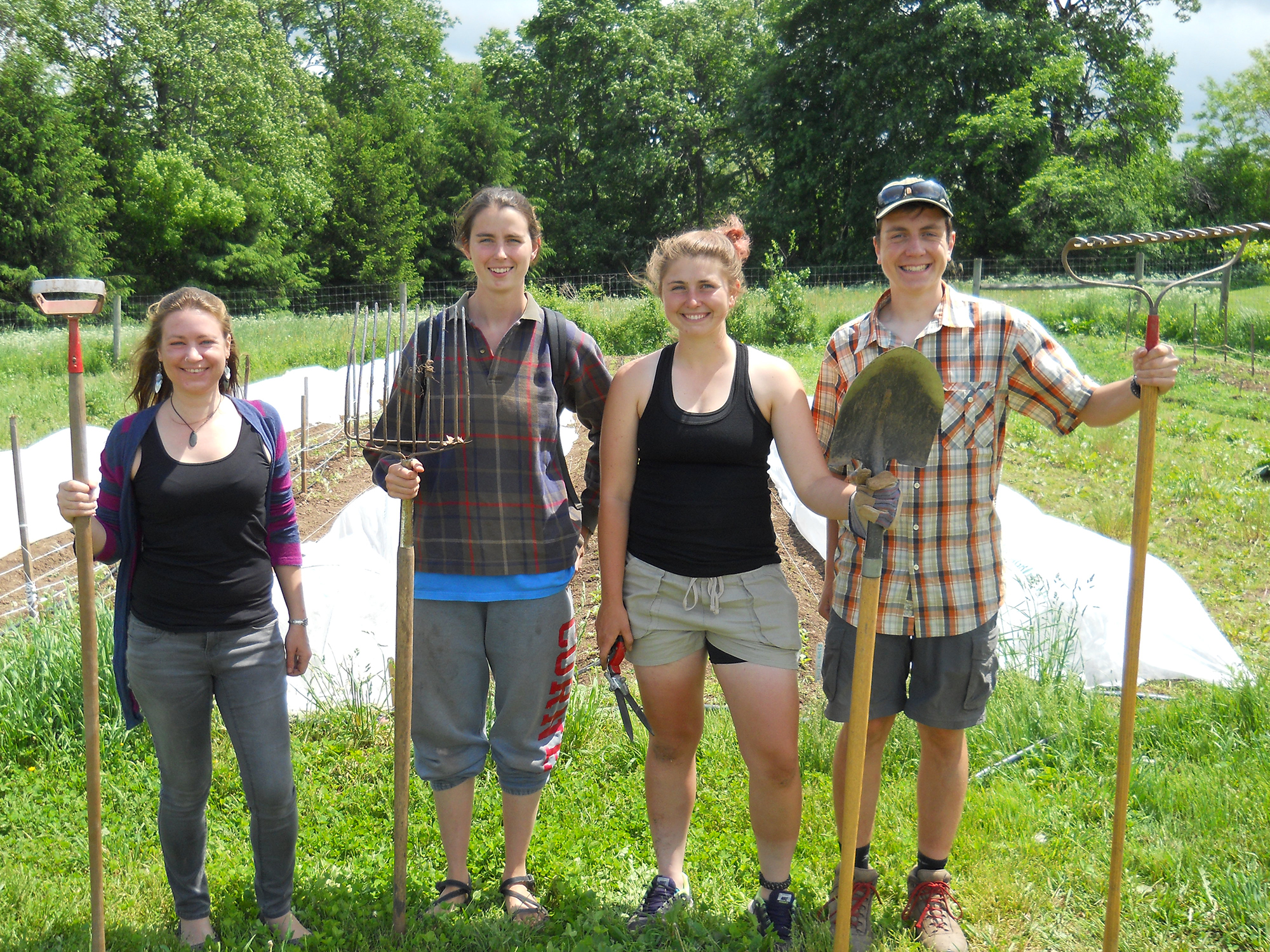 The Hamilton College Community Farm Garden is moving into its eighth year this fall, but even during the summertime students and staff are busy tending to the ¾ acre plot. The farm was founded in 2007 with the intent to "create a forum where knowledge of food and agriculture is intentionally cultivated to strengthen the relationship between the Hamilton Community and the land that supports (it)."
That it certainly has done: the farm is an integral component of the "Food for Thought" seminar, offered yearly, as well as a source of produce for numerous individuals and organizations within the community.
Produce from the main plot largely ends up being sold to community members throughout the summer and into the fall at weekly on-campus farm stands. For employees who cannot reach the farm stand during scheduled hours, there is also a weekly online-order service offered, through which employees can remotely select the produce that they wish to purchase, to be delivered shortly thereafter. Produce from the farm also ends up with Bon Appetit dining services, to be served in the campus dining halls. Beyond this, surplus food is donated to local soup kitchens.
This summer the farm's major plot is being tended primarily by student farm managers, who have agreed to cultivate the plot either for 10-12 weeks as full time managers, or for 5-6 weeks part-time. Students that choose to help maintain the community farm are not simply relegated to the Hamilton plot, however. Many join Hamilton College Community Farm Supervisor Hillary Joy Pitoniak in traveling to community gardens throughout the city of Utica to plant garden beds and donate seedlings.
Having held the position of Hamilton College Community Farm Supervisor since 2010, Pitoniak has been involved with community garden work in the Utica and Hamilton communities for some time. Since 2012 she has represented Hamilton on the Utica Community Gardens Committee, where she "(works) alongside members of the State and County Departments of Health, the Mohawk Valley Resource Center for Refugees, the Cornell Cooperative Extension, the Home Ownership Center, and various other groups to establish community gardens throughout the City of Utica."
Bridging the Hamilton and local communities has been a common thread throughout much of Pitoniak's work in recent years. "This year, New Hartford High School autistic students have come to our greenhouse to help plant seeds that will later be donated to several of the community gardens in Utica and the surrounding area, including a developing Nepali refugee garden in Deansboro," says Pitoniak, adding "I also plan to bring this year's Hamilton Community Farm managers to these gardens to get the rewarding experience that our work provides… it's been amazing, because it gets students off the Hill to give them a real community garden experience, and that feeling of really making a difference."