Hamilton Community Farm Workers Lend a Hand in Utica
---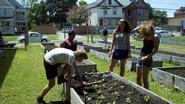 Members of the Hamilton College Community Farm have had a busy spring, maintaining the Hamilton farm while also lending a hand at a vegetable garden in Utica.
Recently, farm workers began volunteering off the Hill to help at Utica urban gardens in conjunction with For the Good Inc., BOCES GED program students, and Feed the Vets. Hamilton Community Farm Supervisor Hillary Joy Pitoniak and farm summer managers Ali Crivelli '14, Gabe Burford '15 and Margaret Hylas '15 have been helping out at the Jay Street and Linwood gardens in Utica over the past few weeks.
Pitoniak said the Hamilton farm had some seedlings left over so she worked with Jon Hysell '72, executive director of annual giving and alumni relations, to donate them to the For the Good Inc. gardens. Alumna Cassandra Harris-Lockwood K'74 is president of For the Good Inc. On June 7, Pitoniak and the farm managers brought the first round of vegetable seedlings to the Linwood Place garden where they spent the day planting and weeding. The next day they planted at the Jay Street garden. They returned the following week and had a potluck dinner to celebrate.
Government officials who attended the dinner included Utica Mayor Robert Palmieri, N.Y. State Senator Joe Griffo, John Stemen, aide to N.Y. State Assemblyman Anthony Brindisi, Oneida County Legislator Rose Ann Convertino and Utica City Councilman Frank Vescera.
Other participants included Cassandra Harris-Lockwood; Theresa Mott, BOCES teacher, and the BOCES Education Resource students; Larry Drake of Feed Our Vets, who tends the garden three days a week; local community members who have been involved with the garden; and Fr. John Ngyuen from Old Historic St. John's who blessed the planting.