Hamilton Community Mourns Milt Fillius '44
---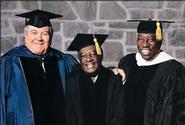 Milton F. Fillius, Jr., a member of Hamilton's class of 1944 and a trustee who was instrumental in founding Hamilton's Jazz Archive, died on February 12 following a lengthy illness. He was 79 years old.
Hamilton College President Eugene M. Tobin said, "Milt Fillius was one of Hamilton's most loyal, generous and enthusiastic alumni. Our entire community mourns his loss."
Milt grew up in Rochester, N.Y. He came to Hamilton as a member of the Class of 1944, but had his studies interrupted by service in World War II as a submarine officer in the Navy. After receiving his Hamilton degree in June 1947, he went to law school at the University of Michigan and was admitted to the California Bar. Instead of practicing law, Milt went into business: first shipbuilding, then tuna packing and land development, and finally citrus processing. He finished his career as chairman and president of Vita-Pakt.
Milt served as a member of the Hamilton Board of Trustees beginning in 1982 and shared his love and passion for jazz with our community through a series of annual concerts that brought some of the world's most legendary jazz artists to College Hill. His association with the Drown Foundation led to the establishment of the Hamilton College Jazz Archive, which seeks to preserve and perpetuate an appreciation of jazz among future generations. Today, more than 200 pioneers and contemporary legends of this unique American art form have participated in this living history project, and a significant number have been awarded honorary degrees by the College. Milt, himself, was presented with an honorary Hamilton doctorate in 1996.
But Milt's primary focus was always on our students. Working, again, with the Drown Foundation, which he at one time chaired, he established the Drown Prize Scholarship and the Drown Loan Fund, which each year provide financial support to approximately 100 students. Milt's extraordinary generosity to Hamilton was matched by the prominent role he played in the San Diego community as a director of civic and charitable organizations and president of the Chamber of Commerce.
President Tobin added, "Few alumni loved their alma mater more than Milt Fillius. Despite living 3,000 miles from campus, and even as his health declined, he was a frequent visitor to College Hill, joining us most recently at Commencement and Reunion Weekend. His legacy to the Hamilton and San Diego communities is already one of unselfish service, generosity and loyalty," Tobin said.