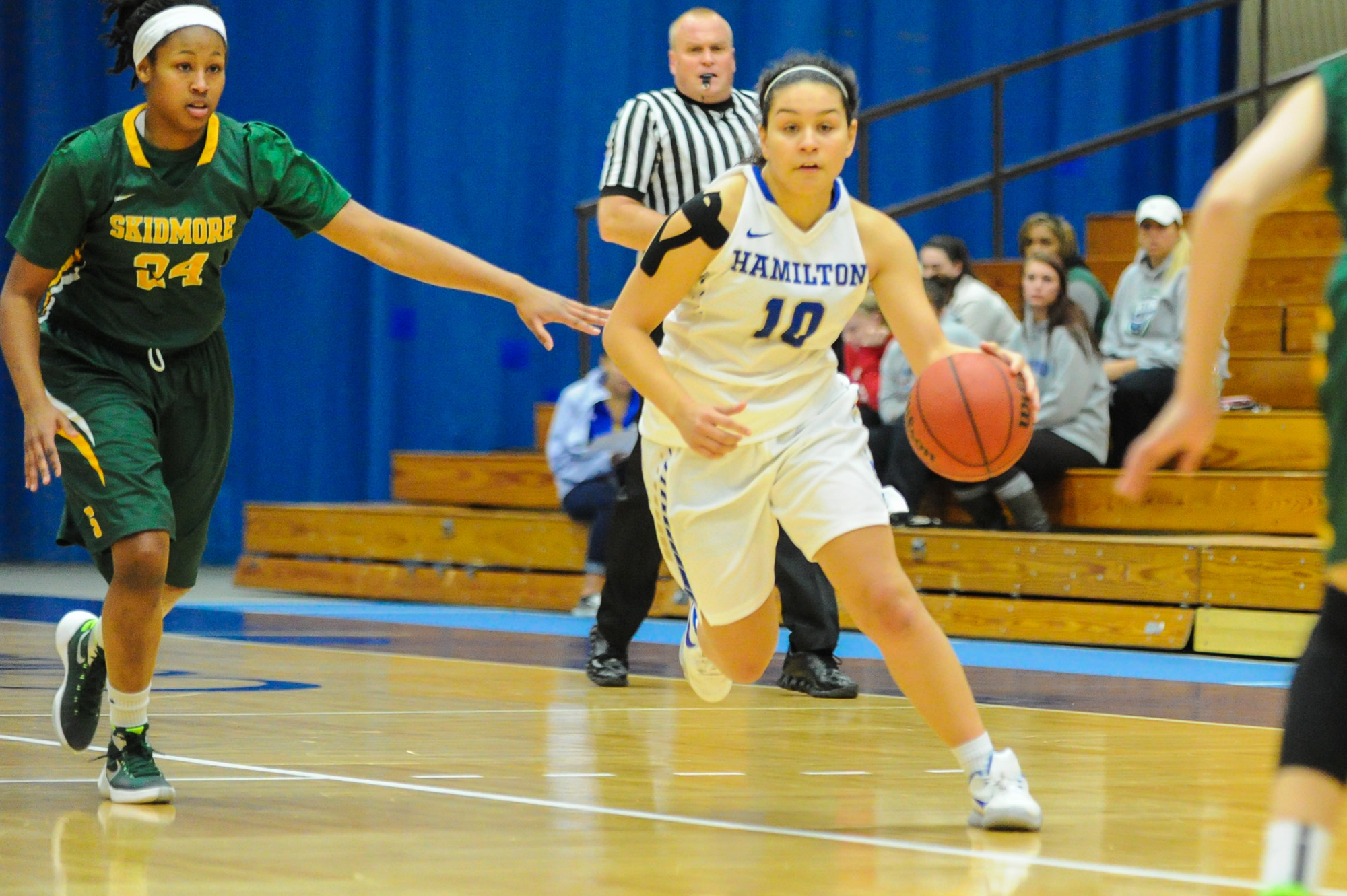 SUNY Brockport scored 26 points in the fourth quarter and the Golden Eagles rallied for a 67-62 non-conference win against the Hamilton College Continentals at Brockport's Vlogianitis Gymnasium on Friday night.

Box Score

Sam Graber '16 led Hamilton (4-4 overall) with 18 points and she is ranked second in the NESCAC with 18.5 per game. Graber moved into seventh place on the program's all-time list with 1,138 career points.

Kendall Rallins '19 chipped in a season-high 15 points and handed out four assists for the Continentals. Halie Serbent '19 went 3 of 4 from 3-point range and finished with a season-best 13 points. Lauren Getman '18 racked up seven rebounds, four assists and three blocked shots, and Rylie Mainville '18 blocked a career-high four shots.

Brockport's Olivia Suhr led all players with 20 points and eight boards. Hannah Rehbaum added 17 points and three steals, and Faith Welch recorded 15 points, seven assists and three steals.

Hamilton led 46-41 after three quarters and the Continentals enjoyed their largest lead of the night of eight points at 51-43 after Serbent nailed a 3-pointer less than a minute into the fourth quarter.

The Golden Eagles (4-2) countered with a 15-3 run that gave them the lead for good. During Brockport's spurt, which covered more than five minutes, Hamilton mustered two free throws by Graber and another by Rallins.

The run featured six points by Suhr. A Welch layup with 6:26 left put the Golden Eagles ahead to stay at 54-53. Hannah Spencer capped the run with a jumper that made it 58-54 with 4:17 remaining. Graber sandwiched a couple of baskets in the paint around a 3-pointer by Suhr and the Continentals were within three points at 61-58 with 3:18 left. Rehbaum went 1-for-2 at the free-throw line 22 seconds later, and Hamilton didn't make it a one-possession game again.

The first quarter featured four ties and seven lead changes as neither team led by more than three points. Brockport held a 16-13 edge after the first 10 minutes.

The Golden Eagles opened up their biggest lead of nine points twice early in the second quarter. The Continentals recovered from a 26-17 deficit by going on a 16-2 run that ended the quarter. Serbent drilled a couple 3-pointers during the spurt and a Carly Gruenberg '16 layup gave Hamilton a 33-28 lead at the break. The Continentals shot 52 percent from the floor during the opening 20 minutes.

There were two ties and two lead changes early in the third quarter but Hamilton held Brockport without a field goal for the final 5:41. Rallins' layup just beat the buzzer for a five-point advantage at the end of the quarter.

The Continentals are off for finals and the holidays until Dec. 29 when they take on Eureka College at the D3 Music City Classic in Nashville.