Hamilton edges Utica for first men's lacrosse win
---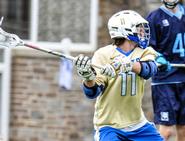 The Hamilton College Continentals collected their first victory of the season, edging the undefeated Utica College Pioneers 10-9 in a non-conference game at Hamilton's Steuben Field on Tuesday afternoon.

Box score

The Continentals (1-3 overall) outscored the Pioneers 4-0 in the first quarter. The win was Hamilton's 13th straight over Utica, which trails the all-time series, 14-1. The last three meetings in Clinton have all been decided by one goal.

Utica (2-1) scored the game's final three goals and pulled to within 10-9 with 12.5 seconds left but Hamilton's Trip Connors '17 won the faceoff and Bryan Hopper '14 ran out the clock.

Connor Morgan '15 and Joe Ricciuti '16 scored three goals apiece for Hamilton with Morgan notching two in the decisive opening period. Sam Sweet '16 contributed two goals and three assists.

A goal by Hopper with 7:36 left in the second quarter put the Continentals ahead 7-2 before the Pioneers began their rally by scoring four of the next five. Andrew Jamieson '14 capped that run by scoring his second goal of the year 4:35 into the third quarter to pull Utica within 8-6. Ricciuti scored the next two goals – giving him six on the season – before Utica's Zack Stevenson '15 closed out the period by beating Hamilton's Will Driscoll '15 with nine seconds left.

The Pioneers held the hosts to two shots on goal in the final quarter. Trent Jacobs '16 scored his team-leading eighth goal 1:43 into the period, converting a pass from Christian Reiller '15. Reiller finished with four assists. After Utica's ride forced a failed clear with 2:42 left, the Pioneers maintained possession until a goal by Ross Cree '17 with 12.5 seconds left.

Connors won 15 of 22 face-offs and led all players with 12 ground balls. Hopper picked up eight and Hamilton enjoyed a 48-23 advantage in that category. Sellers Garrett '16 finished with four ground balls and two caused turnovers. Driscoll saved seven shots to pick up the win.

Utica's Andrew DiOrio '15 made nine saves and Stevenson led the Pioneers with five ground balls. Scott Baron '14 and Sean Flanagan '15 caused three turnovers apiece. Cree and Jacobs both scored a pair of goals for Utica, which has lost all four games against the Continentals since the inception of the Contineer Cup traveling trophy.

Ricciuti scored on the opening faceoff and Sweet followed with a goal 2:25 later to put Hamilton up 2-0. John Zimmerman '15 finished with a goal and two assists for 16 points, including a team-high 11 assists, this year. Brian Bauersfeld '15 assisted on Morgan's first goal for his first collegiate point.

Hamilton returns to action on Saturday, March 15, with a NESCAC game against nationally ranked No. 18 Bowdoin College at 1 p.m. Utica plays a non-league game at Kean University on Saturday afternoon.