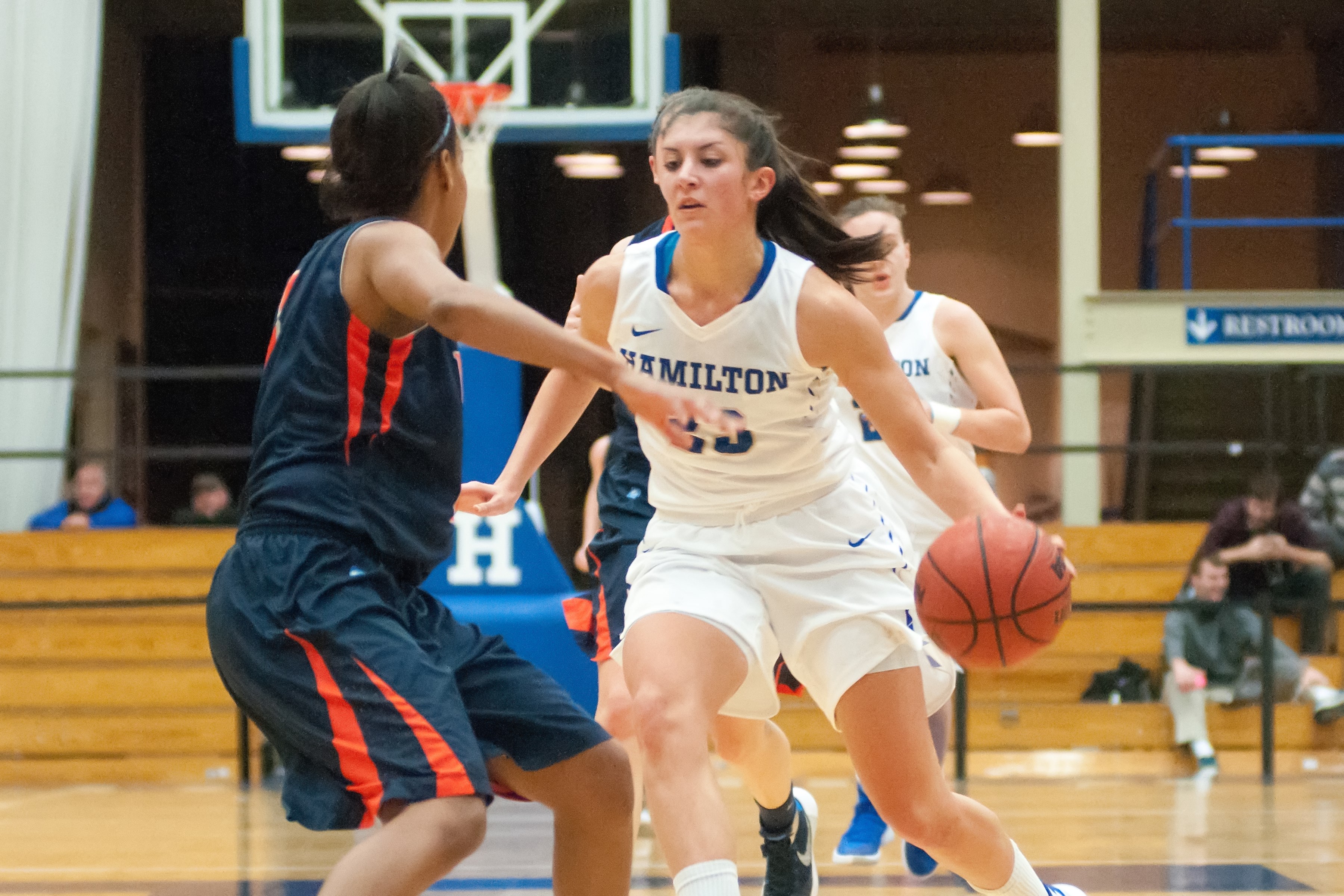 The Hamilton College Continentals scored 22 points in the first quarter but the University of Wisconsin-Stout Blue Devils rallied for a 76-62 win in the 2015 D3 Music City Classic at Trevecca Nazarene University in Nashville, Tenn., on Wednesday afternoon.

Box Score

Hamilton (4-6 overall) was led by Sam Graber '16, who poured in a game-high 24 points and added four steals. Graber has four 20-point games this season and is ranked second in the NESCAC with 18.8 per game. She was the only Continental who scored in double figures.

Lauren Getman '18 grabbed eight rebounds for Hamilton and leads the team with 8.4 per game. Rylie Mainville '18 came off the bench to block a career-high seven shots and finished the two-game tournament with 11.

Jenna Goldsmith posted a double-double with 16 points and 11 boards for UW-Stout (6-4), which won its third straight game. Sarah Schoch dropped in 14 points and Stephanie Kastens added 13 in 13 minutes off the bench. Kyleigh Hebert contributed eight points, five assists and five steals.

The Continentals were whistled for 28 fouls which led to 39 free-throw attempts for the Blue Devils. UW-Stout made more free throws (24) than Hamilton attempted (22). The Blue Devils enjoyed a 52-30 advantage on the glass.

The Continentals scored the first five points on a Getman layup and a 3-pointer by Graber, and led the entire first quarter. A free throw by Carly Gruenberg '16 gave Hamilton its largest lead of the afternoon at 21-14 with 1:15 left in the quarter. The Continentals owned a 22-18 edge after one.

UW-Stout outscored Hamilton 23-12 in the second quarter. Layups by Schoch and Goldsmith tied the score at 22 and, after a Gruenberg basket from close range, Goldsmith scored again in the paint and forged a 24-24 tie. A jumper by Danielle Adams gave the Blue Devils their first lead at 26-24 two minutes into the second quarter and UW-Stout led the rest of the way.

The Blue Devils owned a 41-34 cushion at the half. Graber opened the third quarter with a layup that pulled the Continentals within five, but Schoch scored the next five points and UW-Stout had its first double-digit lead at 46-36 just one minute into the third. Hamilton didn't get closer than eight points the rest of the day, and the Blue Devils took their largest lead of 20 points at 75-55 on a 3-pointer by Anna Brown with 4:16 remaining in the fourth quarter.

The Continentals travel to nationally ranked No. 23 University of Rochester for a non-conference game on Tuesday, Jan. 5, at 4 p.m.